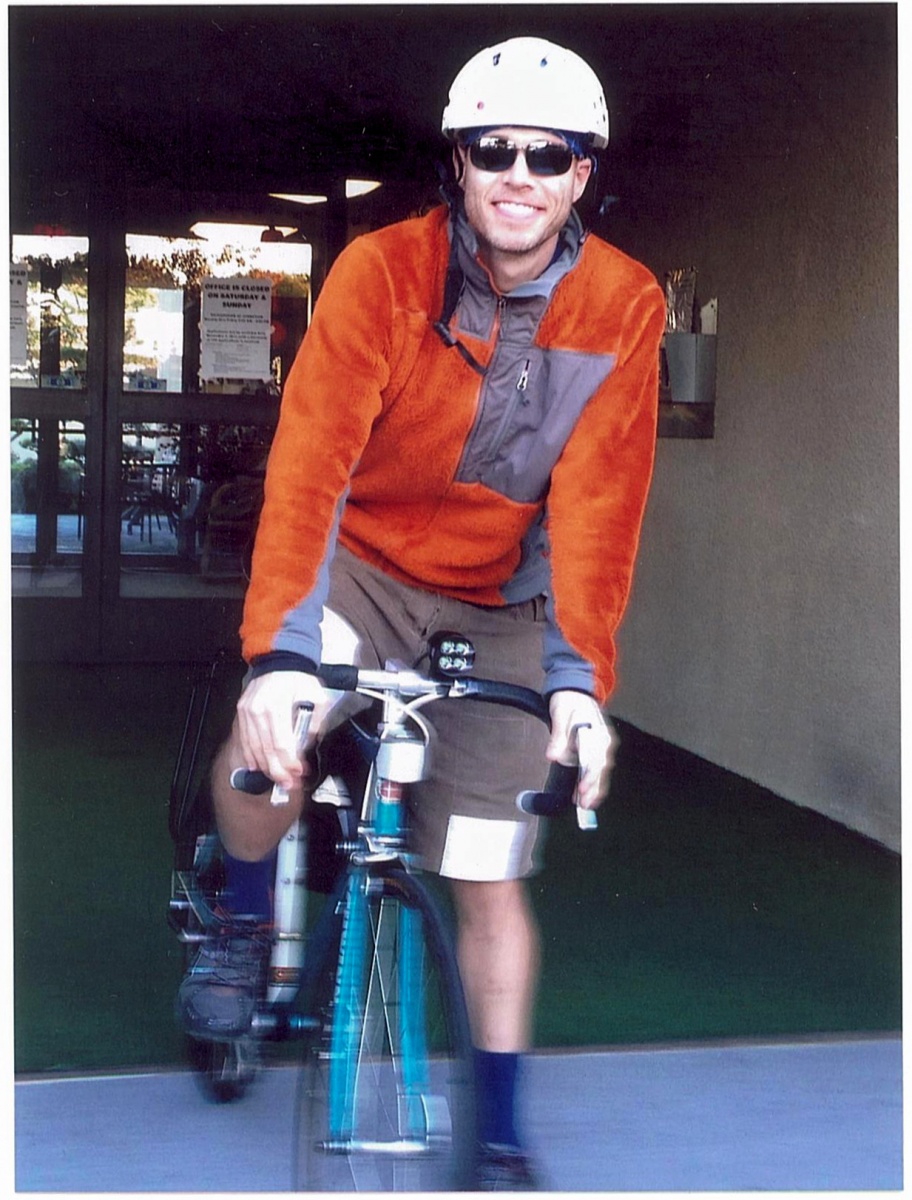 Program Bio
Kristofer Bergstrom is a percussionist, composer, and choreographer, known for pushing the tonal possibilities of Japanese drums and for his groundbreaking choreography for slant-style taiko.  He was a founding member of On Ensemble, formed Los Angeles Taiko Institute alongside Yuta Kato, was 2018 Artist in Residence for the City of Los Angeles, 2019 Asano Taiko US Artist in Residence, and is currently Grand Vision Foundation Artist in Residence, developing work for stage performance alongside dancer, Minh Nguyen.
Personal message
In 1995, at a performance for the new freshman at Stanford University, I saw taiko for the first time.  I liked the mixture of rhythm and choreography and that both men and women were powerful.  It didn't occur to me that I could play taiko until my first friend in college, a drummer, turned to me and said, "We should try that."  I did, and I loved it. 
Unfortunately, I was pretty bad.  With no dance or drumming experience, my movements were awkward and my rhythms rushed.  I flubbed the first audition.  With two days until the second and final try-out, I practiced like crazy and it saved me.  "You were still bad," a Stanford Taiko member now tells me, "but you were waaay better than the first day."
The more I played taiko, the more I loved it.  I was a sophomore when thoughts of being a professional taiko player overtook my dreams of being a physicist.  (One unusual career replaced by another.)  I spent more and more of my time practicing, composing, performing, and studying Japanese.  I graduated with the minimum required academic credits but the maximum amount of taiko experience.  I moved to northern Japan.
Taiko is a modern artform.  Even though the drums themselves are centuries-old, it wasn't until the 50's that Japanese drums became the focus of a performance.  Surprisingly, the first ensemble taiko pieces were being written at the same time that Chuck Berry was developing his electric guitar sound.  I wanted to study the roots of this modern form of taiko -- anything from the formal court music of gagaku to the backbeat drumming for the dancers at the festival.  I looked in the phonebook under "nagauta", the music of kabuki, and found one teacher listed.  It turns out, I had happened upon one of the world's great players and best teachers of shamisen (3-stringed lute), Kineya Katsuyukie.  She told me later, "I only put that ad in the phone book once... and only because a classmate was working at the telephone book company."
The daily shamisen lessons allowed me to study the timing and feel of kabuki music, as well as Katsuyukie herself, from whom I learned what it means to be a deeply committed musician.  Her mastery comes from practicing shamisen from every angle.  In preparation for our school's performance at Kokuritsu Gekijyo (National Theater of Japan), she taught me the other musicians' parts -- singing, taiko, flute -- before teaching me the shamisen.  In preparation for my first performance in a full-scale kabuki play, she made me practice unpacking and repacking my instrument and carrying it safely through the cluttered hallway to mimic a busy backstage.  In preparation for my debut as "Kineya Katsukojyu", my given stage name, she taught me how the individual melodies I was performing had changed over the history of the piece, and how my name fits into the history of the guild.  Kineya Katsuyukie taught me that tradition is not fundamentally about preservation and formality, but about striving for timeless music through curiosity and experimentation.
In 2001, Masato Baba, Michelle Fujii, Shoji Kameda, and I formed On Ensemble with a debut concert in Hakodate, Japan, performing all-original music.  Being the least experienced member, I struggled to keep up.  We had written the pieces while we were apart, but in two weeks of intense all-day rehearsals, we pulled the music together.  The following year we moved to Los Angeles and began touring North America.
I spent the next decade of my career exploring taiko technique, inventing the tools that unlocked the sounds and movements I wanted.  I found ways of striking the drum to mimic the glitchy hi-hat rhythms I love.  In asking myself the question, "Why does this movement look cheesy?", I created the choreographic concepts that allow me to investigate the balance between rhythm and movement.
I played with On Ensemble until 2015, when Maz and Shoji asked me to step down from the group.  My discomfort with the group's costumes was apparently a breaking point.  I formed Los Angeles Taiko Institute with Yuta Kato, supported by Asano Taiko U.S., and now divide my time between teaching and solo artist work.
Watching a taiko concert recently, I was frustrated by what I perceived as the exotification of taiko, using costumes and solemnity to present taiko as part of an objectified Japan.  I want taiko to be part of us, grounded in the same curiosity and experimentation that I see in Katsuyukie's lifelong study of nagauta.
I want to create my own timeless music, following on the heels of nagauta and other traditional forms, but true to my modern sensibilities.  Watching that concert, I felt a wave of excitement that my vision of music is coming into focus, followed by a wave of anxiety for the responsibility of bringing that music into existence.  I need to work faster and compose more.  I need to play with more diverse collaborators.  I need to become a better soloist and a better accompanist.  I need to practice.
Promo photos (click image for high-resolution version)