Published on Thu, 2019-01-31 17:12
Date:
Sat, 2019-05-25

19:00

to

21:00
Description:
This is the first concert of a two-part concert series hosted by Stanford Taiko, in celebration of the 25th anniversary of the Intercollegiate Taiko Invitational (ITI). First established in 1995, ITI has grown into an annual two-day conference that brings together over 180 collegiate taiko players, who will have the opportunity to learn from and play with professional players on the vanguard of North American taiko. This concert will showcase the performances of several taiko pioneers, as well as many who are pushing taiko in new and innovative ways. We are honored to welcome them to ITI as our esteemed instructors at this 25th anniversary celebration. 
Featured artists: PJ Hirabayashi, Roy Hirabayashi, Kenny Endo, Chizuko Endo, Russel Baba, Jeanne Mercer, Tiffany Tamaribuchi, Sascha Molina, San Jose Taiko, Masato Baba, Kristy Oshiro, Yeeman Mui, David Wells, Kris Bergstrom, Yuta Kato, Shoji Kameda, and Taiko SOBA.
Set List:
Celebration
Composed by:​ Roy Hirabayashi in 1992
Performers: ​ PJ & Roy Hirabayashi
Inspired from a harvest song of the Noto Peninsula in Japan, "Celebration" is a duet piece that intertwines
rhythms and festivities to celebrate daily life. The song opens with a short fue and odaiko prelude.
Mikoshi Daiko
Composed by:​ Sukeroku Taiko
Performers:​ Chizuko Endo & YeeMan "ManMan" Mui
A "mikoshi" is a portable Shinto shrine. According to Shintoism, the indigenous religion of Japan, there are
Gods everywhere. Inside the mikoshi also dwells a God. Mikoshi are brought out of storage during festival time
and carried on the shoulders of 20-100 people depending on the weight of the mikoshi. They are paraded
through the neighborhoods and to the local shrine to receive blessings and to give blessings to all the people.
This piece is performed to give spirit and energy to the many mikoshi bearers.
Intrepid
Composed by:​ Kiyoshi Shikuma
Performers:​ Taiko SOBA
- Alison Yuzuriha, Chris Wong, Ian Berve, Kelsi Kobara, Ken Yuzuriha, Kiyoshi Shikuma, Lynn Tran,
Mark Nishimura, Rome Hamner, Sophie Ye, Vicky Zhang
Intrepid follows a band of explorers on a journey. The players' path reflects their ongoing quest to improve
while having fun with friends along the way. Interlocking rhythms create changing landscapes in which the
group explore and share their adventures.
Old Stage Road
Composed by:​ Shoji Kameda & Masato Baba (2013)
Performers:​ Shoji Kameda & Masato Baba
Many memories are revisited in this song named after the road that Maz and Shoji grew up on.
Shototsu
Composed by:​ Masato Baba (2014)
Performers:​ Masato Baba, Courtney Deguchi, Jeanne Mercer, & Russel Baba
Shototsu, originally composed for Masato and Courtney's wedding in March, 2014, describes a joyous collision
of worlds. Stemming from our ancestors who shine in the night sky and the support and love of both families,
two come together and shine forth.
O
Composed by:​ Russel Baba (2014)
Performers: ​ Russel Baba, Jeanne Mercer, & Masato Baba
Cohesion, Departure, Convergence, Unity
"O" has three movements and features improvisation.
We will perform the 2nd and 3rd movements.
Gendai ni Ikiru (Living in the Present)
Composed by: Gary Tsujimoto (1978)
Performers: San Jose Taiko
- Rina Chang, Mitchell Fukumoto, Alex Hudson, Andrew Jiang, Yuzu Kubota, Vicky Phan, Kazu Shirai
Living in the Present reflects the blending of traditional and modern rhythms to create a sound that combines a
simple taiko beat with rhythm patterns of jazz.
- INTERMISSION --
Kokoro-YŌ!
Composed by: ​ Tiffany Tamaribuchi, 1993 (Kokorozashi); Za Ondekoza
Performers: ​ Tiffany Tamaribuchi, Sascha Molina, & Kristy Oshiro
Combining elements of kumi-daiko (set percussion), improvisation, & an adapted version of Yōmatsuri-bayashi
("Yatai"), featuring Sascha Molina, Kristy Oshiro, and Tiffany Tamaribuchi.
Gliding Dreams
Composed by:​ Yeeman "ManMan" Mui (2015, and still evolving)
Performers:​ Yeeman "ManMan" Mui, Kristy Oshiro, & David Wells
Gliding dreams is an original choreographic composition by Yeeman Mui, known in the taiko community as
ManMan. The piece explores a graceful yet dynamic approach to playing odaiko, which contrasts the more
forceful style more commonly associated with the instrument. Gliding Dreams depicts a story of embracing
change and finding hope. The song within the piece "Ja Dan Dui" is written by Soili Perkïo from Finland and
was adapted by ManMan. The piece has been performed as a solo piece, a trio, and a duet collaboration with
handpan. The trio version that is arranged for ITI 2019 will be performed by ManMan, Kristy Oshiro, and David
Wells.
Grit
Composed by:​ David Wells (2019)
Performers:​ David Wells, Kristofer Bergstrom, & Yuta Kato
[This section has been left intentionally blank.]
Hachijo Daiko
Composed by:​ N/A (Traditional Style, Improvisation)
Performers:​ Yuta Kato & David Wells
A solo/improvisation on the folk taiko style of Hachijo Island.
SugAmen
Composed by: ​ Kristofer Bergstrom & Yuta Kato (2014, rev. 2019)
Performers: ​ Kristofer Bergstrom & Yuta Kato
In the Kabuki shamisen world, fast alternation of notes between two players is called "sugagaki". SugAmen
applies this concept to the "oroshi" taiko pattern, and reinterprets the classic drum-and-bass Amen Break
rhythm. Revised for today's performance, the piece now incorporates multiple time signatures.________________
Work In Progress: Kawatsura
Composed by:​ Kristofer Bergstrom (May 2019)
Performer:​ Kristofer Bergstrom
"(January 2019) Recently I'm listening to sad, sweet music and I'm playing taiko gently with brushes. I don't
know what form this interest will take by the time I get to the May performance but I'm committing to doing
something new. I hope you like it!" -- Kris
Me, You, Us
Composed by:​ Karen Young & YeeMan "ManMan" Mui (2019)
Performers:​ Karen Young, YeeMan "ManMan" Mui, & Kristy Oshiro
"Me, You, Us" is a playful, interactive, engaging piece involving taiko, voice, and YOU the audience.
Yume no Pahu
Composed by: ​ Kenny Endo (1992)
Performers: ​ Kenny Endo, Chizuko Endo, Hiroshi Tanaka, Susan Yuen, Masato Baba, Kristofer Bergstrom,
David Wells, Shoji Kameda, & Yeeman Mui
This composition was inspired by Hawai'ian pahu (drum) maker, Cioci, who had a dream that he was playing
an unusually shaped pahu and chanting in a clearing in the forest. After awaking, he constructed a drum
exactly like that in his dream. The first musical section is based on the Hawai'ian mele (song) "Ua Nani o
Nu'uanu". The second section is influenced by a Tahitian rhythm, 'titau,' arranged as a solo section. This
piece is dedicated to the native people of Hawai'i in support of their struggle for control of their culture, their
land, and their destiny.
Wrap up:
Debut of Grit (David Wells) and Play 4/4
https://youtu.be/Q0ZL9hW0KPI?t=1661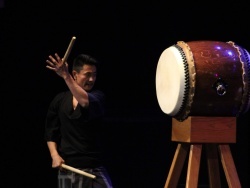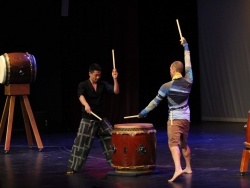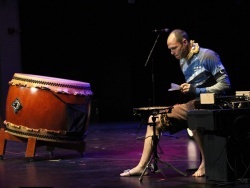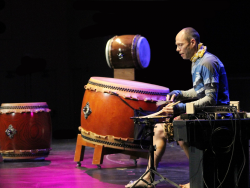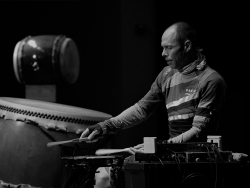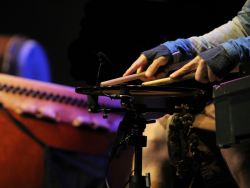 photo credit: Vianna Vo, Curtis Fan