Published on Fri, 2020-02-21 15:55
Date:
Sat, 2020-02-22

09:30

to

12:00
Location:
University of Connecticut
Oak Hall 105
Description:
intermediate | naname
Start learning this advanced naname (slant-style) piece with the composer/choreographer.  As a copyleft work, Jack Bazaar is free to be used by you and your group, performed, and changed as desired.
https://k–b.org/compositions/jack-bazaar
"I performed Jack Bazaar at the National Theater of Japan in 2013 as part of the first American ensemble to join the annual Nihon no Taiko concert.  I dropped my bachi. Let me teach you how to do it better! If you get a chance, please take a look at the piece in advance… I love questions!" — Kris Bergstrom
Set List:
Murder part 1 scaffolding (call and answer)
- teams of 2 or 3
Introductions / Overview
- name
- Jack Bazaar concept: strike-based choreo
-- 20 phrases
-- https://k--b.org/compositions/jack-bazaar
-- Inspiring music (hip-hop/trap) for naname choreography
Individual feedback: sticking, rim locations, rhythm
Murder part 2
- teams of 3: prep for strike, strike, extrended paths
Closing
- Q/A
- copyleft
- group photo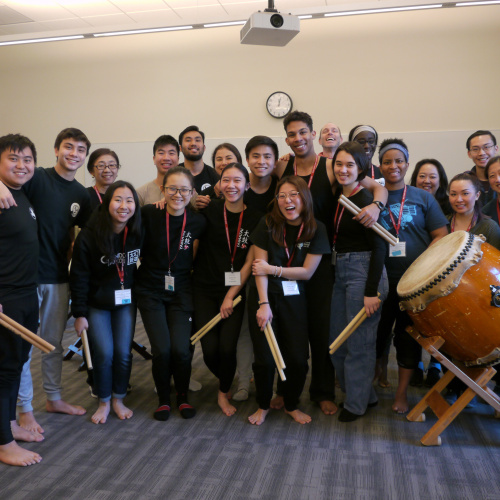 Wrap up:
Wonderful enthusiasm and great questions.