Published on Tue, 2018-07-31 14:28
Date:
Wed, 2018-08-15

18:00

to

20:00
Location:
Cortez Buddhist Church
12985 Cortez Ave
Turlock CA 95380
Description:
Straightforward approaches to preparing a solo from composition, to practice, to performance.
Set List:
welcome
- name, thoughts on naname
naname-centric warmup
- neck
- arms
- torso
- legs
copycat warmup at drum
fundamentals
- strike prep (bachi tip distance from drum, palm up)
- grip (loose to allow bachi to move freely)
- stance: three variables
-- angle of feet (line between toes)
-- distance to drum
-- "pie angle"
- strike waits until last moment (no melting!)
using "otsuri" effectively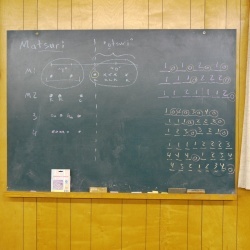 how to incorporate whole body
- relationship of hips and strike
- "pulling" arms through space: Helio
Q/A
closing
Wrap up:
Great energy and curiosity.  I love Stockton Bukyo Taiko!