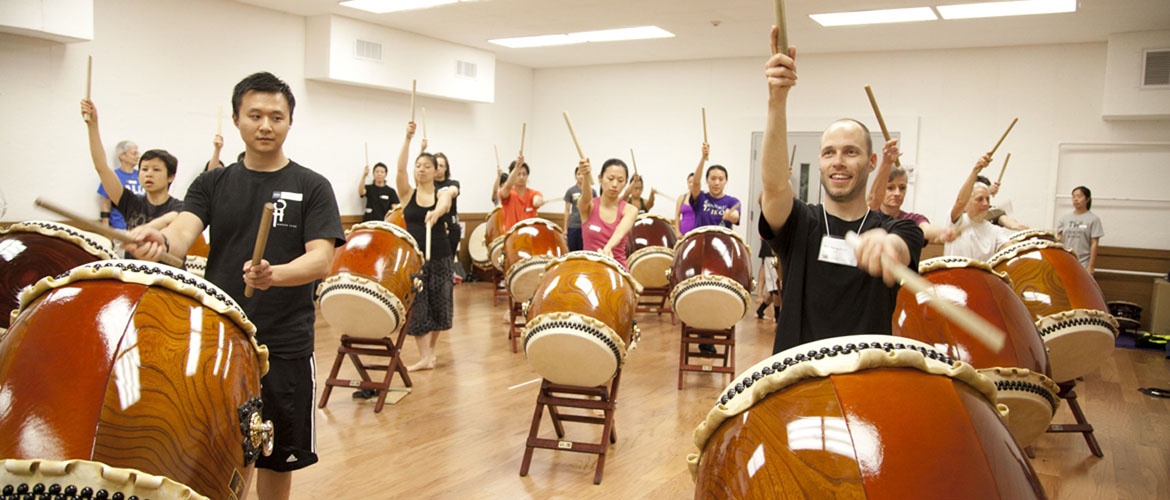 I love working with taiko players outside of Los Angeles Taiko Institute.  This is a guide to the kind of things I teach and how to make the most of a workshop or private lesson with me.
Contents
Topics
Possible Programs
Example workshops
Tips 
Prices
I most frequently teach the following topics (updated Jul 1, 2019).
naname choreography
naname fundamentals
naname extended rhythm technique
small-drum fundamentals
small-drum extended technique
multi-drum
repertoire feedback
song learning (Handtagonism, Tally Ho, Karc / Jack Bazaar, Matsuri Crashers, Radiddlepa)
taiko pedagogy
mochi-pounding
I prefer to teach as much as possible when I travel.  In addition to the simple, single workshop, groups and I frequently use one of the following program options for more extensive work together.  
All-day intensive: three, 2-hour workshops with breaks
Mini-intensive: two, 2-hour workshops with a break
Daytime private lessons followed by evening Workshop
Move!
This is one of my favorite workshops; challenging for brain and body with an emphasis on achieving a musical / choreographic experience.  Taught like an exercise class, a brief explanation of a movement concept is followed by fast-paced drumming to music, building to a satisfying ending phrase.  Benefiical for students of all experience levels.
30 Days to Better Shime
Get feedback on the fundamentals of shime grip and strike before tackling the free 30 Days program as a group.  Learn what strategies have been most successful among the approximately 800 international players who have tried the program.
Jack Bazaar
Incorporate this dramatic piece into your group's repertoire!  Workshop can serve as a "primer", explaining how to best approach the project by learning a particular phrase, or can be planned after the group has learned the sticking and rhythms from free resources (notation and slow-motion videos provided).
Lighted Bachi and the Beautiful Strike
See the fundamentals in a new light.  LEDs, long exposure photography, and specific drills heighten awareness of critical strike concepts.
Master Class
Direct compositional and performance feedback squarely at one of the group's own pieces.  This might be a piece that is soon to be performed at an important event, or a work that has reached an unsatisfying plateau.
Sugagaki
Get started on the intense two-person technique that Yuta and Kris credit as making the most dramatic improvement in timing and listening sensitivity in the past decade of practice.
Tips for getting the most from your workshop
My dream is that someday one of my workshops would truly empower the participants to more deeply love taiko, to see the art in a new way, and to better connect with one another.
Unfortunately, the workshop format sometimes makes this difficult.  Here are a list of some of the issues I see, and how we might address them.
picking a topic that you're "supposed to study", instead of what you really want
The fuel that powers change is curiosity and passion.  We should pick workshop topics that engage our maximum interest.
insufficient practice time after workshop
If your goal is to make a noticeable change in your or your group's playing through a single workshop, plan to dedicate a portion of post-workshop practice time to that goal.  I can help provide the drills and concepts to support this ongoing study.
breadth vs depth
It is difficult for a group to know how much or little to request for a given amount of time.  How long should we spend on "fundamentals" or "learning Jack Bazaar"?  There is no simple answer.  I have taught Jack Bazaar in a weekend intensive and in a year-long course and both have benefits and drawbacks.  Think carefully about what the group most needs right now... fun, fast-paced, new material?... or the chance of a new perspective on the fundamentals?  Go with what's most inspiring and I can help guess at the time required.
we are taiko explorers!
I most want students who are enthusiastic and curious.  I love personal questions and students who ask "why?"  I'm most inspired when I feel like I'm surrounded by others who are having fun with the struggle of becoming better at taiko.
Workshop and private lesson prices
Short answer: Workshops - travel plus $600.  Private lessons - $60/hr.
Long answer: What feels fair considering our circumstances
If these prices sound fair to you, you can stop reading and feel confident that hiring me at that price is compensation enough for me to continue what I do.
If the price is difficult for you or your group, let's talk.  I want to reduce the financial barrier to studying taiko, so when groups feel they simply can't afford my asking fee, I am willing to consider reduced fees.  When I have students come from Argentina to take lessons, for example, they face a difficult exchange rate.  I'm okay to essentially cover my costs, if doing so will make a great impact on someone's enjoyment of the art.  We're in this for the long term!
Private lesson details
It's most common for me to teach 90 minute private lessons but I am happy to teach any length lesson in increments of 15 minutes.  Additional students $30/hr.
How travel is calculated
I charge the current CA reimbursement rate for transportation ($0.535 per mile as of Jan 1, 2017), when I travel by bike, car, bus, or train.
When I fly, I charge actual flight cost, plus carbon offset.
When I teach at multiple locations on a single trip, I ask the first booked group to cover the equivalent of the least-expensive single-location travel option, and then charge subsequent groups the remaining expenses.
When I travel with my friend, Hiro, I do not include her travel expenses in my fees.
I ask for the CA standard $93/day per-diem for hotel and $51/day meals during travel days.