Published on Wed, 2019-12-04 12:46
Date:
Sat, 2020-01-11 09:00

to

Sat, 2020-01-18 09:00
Description:
Second stop on the Arugakki 2020 tour and first Composition Residency.  Minh and I spend one week with Moab Taiko Dan, teaching, composing, and choreographing.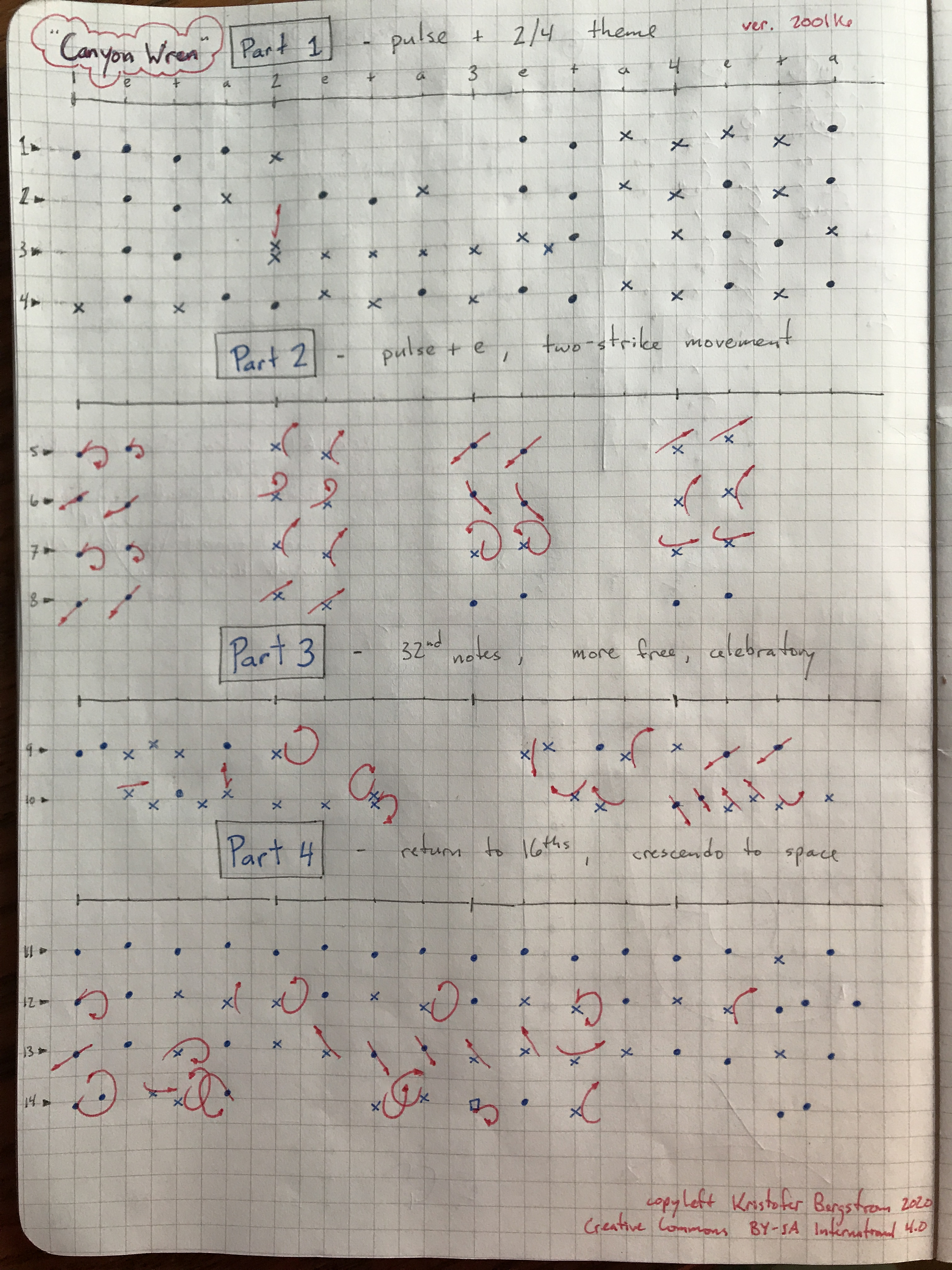 Wrap up: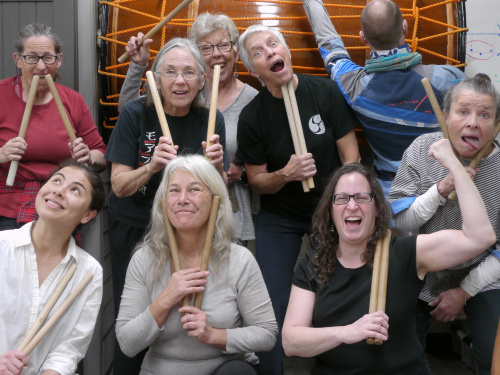 "Canyon Wren"
- 4 taiko sections comprising 14 taiko phrases
- electronic music backing track
"Canyon Wren" teaching videos:
https://vimeo.com/showcase/6721436
Download videos, music, and notation:
http://gofile.me/48iT2/UjG2sSMRj
"Canyon Wren"
by Kristofer Bergstrom
Released copyleft under Creative Commons BY-SA Int. 4.0
Jan 17 2020
I like how the rap in Big Boi's "Kill Jill ft. Killer Mike and Jeezy" uses clear rhythmic themes.  The four sections of "Canyon Wren" follow a similar progression: 2/4 focus -> "1-e" staccato -> 32nd notes -> 8th notes
Samples from around the Moab Arts and Recreation Center and the Moab Taiko Dan practice space were incorporated in the electronic backing track.  An excursion to record the indigenous canyon wren was unsuccessful but samples found online proved useful.
Lines are meant to be modular and most can be looped.
INCLUDED IN THIS RELEASE
arrangement-Related folder
- example draft arrangement
electronic-Music-Related folder
- draft backing track at two tempi (.mp3, .wav)
- audio files for remixing (samples, stems, Octatrack project)
taiko-Related folder
- slow-motion videos
- teaching videos
- workshop videos
ADDITIONAL INFORMATION
- https://k--b.org/performances/composition-residency-moab-taiko-dan
- https://k--b.org/articles/practice/inspiring-tracks-naname-choreography
- https://k--b.org/copyleft
SUPPORTED BY
Taiko Community Alliance - composition grant
Arugakki Collaborator Fund - travel grant
Moab Taiko Dan - residency host
Thank you also to Margaret Hopkin and Minh Nguyen.