Published on Tue, 2020-02-25 16:26
Date:
Mon, 2020-02-24 09:00

to

Sat, 2020-02-29 20:00
Location:
Stony Brook University
Stony Brook New York
Description:
Third composition residency of the Arugakki 2020 tour.  Minh and I spend one week on campus with Taiko Tides, teaching, composing, and choreographing.
Wrap up:
"Hurdle"
- 4 taiko sections with increasing emphasis on movement
- electronic music backing track inspired by "institutional" sounds
Teaching videos:
https://vimeo.com/showcase/6837060
Drills:
https://k--b.org/performances/hurdle-techniques-workshop-taiko-tides
Download all videos, music, and notation:
http://gofile.me/48iT2/mq0MwUeEp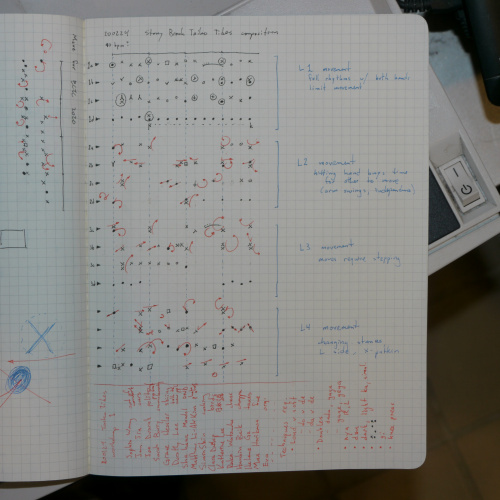 Hurdle
by Kristofer Bergstrom
Released copyleft under Creative Commons BY-SA Int. 4.0
Feb 29 2020
This first iteration of "Hurdle" is four sections of four lines each.  The sections feature increasing amounts of movement while maintaining the accents of section 1.
Section 1 is rhythm-focused, intended to sound like drumset with jazzy, constantly-changing patterns.  Section 2 introduces right arm swings.  Section 3 introduces steps with the feet, pushing the player to new locations to reach new sounds and techniques.  Section 4 features large movements.
The backing track is built on "institutional" sounds.  Stony Brook Taiko Tides members struggle to get the support they need from the University, and I heard terms like "red tape" and "rules" frequently.  The administrator of the Tabler Arts center was angry we were bringing equipment into his building without asking permission and I wrote the taiko parts while staring at a sign that said, "No drums in practice rooms!"  Despite obstacles such as these, Taiko Tides maintains an optimistic attitude, holding practices twice a week and creating new material.
The metalic sounds of the backing track were recorded from parking barriers, fences, and sign posts.  The vocal parts are from a jail PA announcement sample I found at freesound.org.
ADDITIONAL INFORMATION
- https://k--b.org/articles/practice/inspiring-tracks-naname-choreography
- https://k--b.org/copyleft
- https://k--b.org/2020-tour
SUPPORTED BY
Taiko Community Alliance - composition grant
Arugakki Collaborator Fund - travel grant
Stony Brook Taiko Tides - residency host
Thank you also to Eva Nagase, Joe Dvorak, and Minh Nguyen.