Published on Wed, 2017-01-18 00:54
[Originally published at OnEnsemble.org]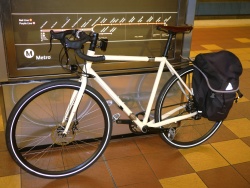 In November of 2012, I gave up my car and committed to riding my bike. Although the transition was much easier than expected, I quickly came to understand the limitations of my hand-me-down bicycle. The gear range of my Schwin Tempo road bike was too limited for hill climbing and I would regularly break spokes when weighed down with my gear. My internet search for a new bicycle began with, "best touring bicycle", plus a list of the dream parts: "Rohloff Speedhub, Gates Carbon drive, disc brakes". One bike in particular looked perfect: the Co-Motion Americano Rohloff. So on New Year's 2014, Hiro and I made our way to Eugene OR to see the factory and meet the people at Co-Motion.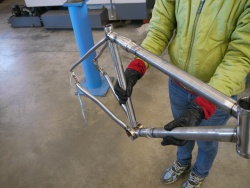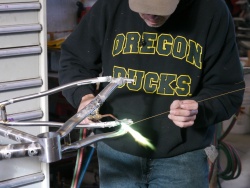 Co-Motion is a custom bike maker in Eugene, Oregon, with a reputation for attention to detail. They welcomed our visit, spending more than two hours giving an in-depth tour, answering our questions, taking my body measurements, and giving me test-rides. The bikes are beautifully constructed, the CNC machines and jigs are amazing, the skill of the welders, brazers, and painters is inspiring, and the service and advice is patient, kind, and helpful. We were bowled over by how wonderful the place was.
The bike that fit my needs is the Americano Rohloff, designed to seamlessly integrate the Rohloff in-hub gear and Gates belt-drive chain replacement.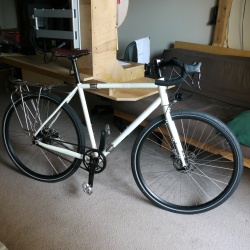 The Rohloff/Gates combo means a longer lasting, quieter, grease-free drive train. The 14 gears are all internal (amazing video here), making them all-but-impervious to water and grit. These 14 gears give the same range as a normal bike's 27 gears, because there's no overlap across the gear range.
I had thought maybe I'd start with a regular derailleur bike and then upgrade in the future to a Rohloff, but it's not that simple. Unlike a regular chain, the belt can't be broken anywhere, so the frame needs a break point. (Until this bike, I hadn't even realized that a chain is actually going through the triangle of the frame formed by the right-side chain stay, right seat stay, and down tube.) This break-point in the Americano Rohloff is provided by a screw where the right-side chain and seat stays meet the drop-out.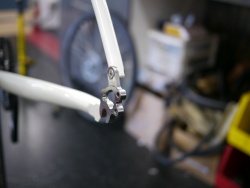 So with the frame designed specifically for Rohloff integration, upgrade wasn't a good option and I went with the full package right from the start. It was a good decision.
In daily use, the Rohloff/Gates is quiet, stiff, and the gear range is fantastic. For normal riding on flat, I usually go down to about gear 6 or 7 at a stop, and up to 10 or so at speed. When pulling a loaded trailer up a hill, I might go as low as 3. Only once, going over Coldwater Canyon, tired and with about 30lbs of gear, did I actually go as low as gears 1 and 2, and then on the steep downhills, I finally maxed out at gear 14. The gear range is perfect.
The shifting took a bit of getting used to, because one has to be careful to take all pressure off the pedals when changing gears. If there is any pressure, the shift from gears 7 to 8 will instead jump to the far end, maybe gear 13 or 14. It's a jarring and annoying occurance when you're trying to speed up from a stoplight. A normal chain/derailleur system seems to be a bit more forgiving so I had habits that needed correcting in the first week or so.
After the first rain, the Gates belt became annoyingly squeaky. A short spray of silicone lubricant on the belt was a quick fix and the noise hasn't returned since.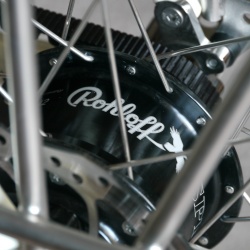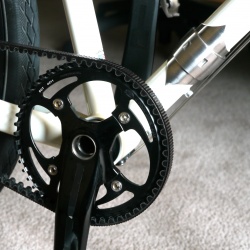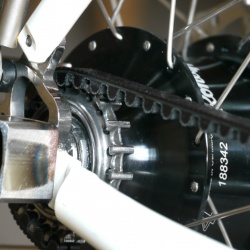 Co-Motion custom-makes the handlebar shifter, since the original Rohloff shifter doesn't fit over the oversized handlebar tube. The Co-Motion version is milled from solid aluminum and feels great. I'd probably prefer a system that allows me to keep my hands on the drop bar while shifting, but otherwise, it's been very satisfying. Here's a stock shot from the internet of the shifter.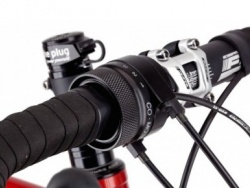 I got the "Co-pilot" coupling option, which puts two S&S couplers in the frame so that it can be broken apart and packed in a travel case. The shift and brake cables are also fitted with quick-release couplers so there's no adjustment needed upon assembly. The case just barely comes in under oversize weight and dimension restrictions, so it can be checked like a regular suitcase. (Though apparently one should say it contains "exercise equipment" because the word "bicycle" triggers extra fees.) Thus far I haven't actually used the travel case, but the couplings have been really great for getting the bike into others' cars for transportation. And considering I hope to have this bike for 20 years, I'm glad to have the couplings for increased future touring options.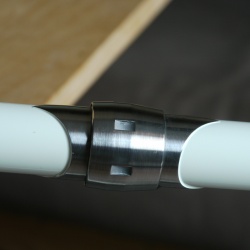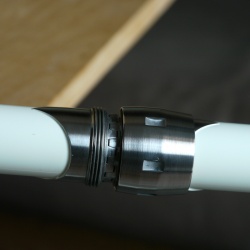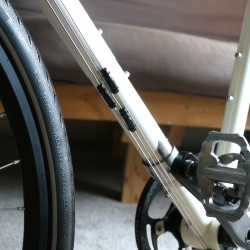 I added the stainless steel drop-out option. The drop-outs on my old bike are rusting because the paint gets scratched off over time by the axles holding the wheels on. On the Co-Motion, the drop-outs are slightly angled forward so that the belt-drive doesn't need to be slackened to remove the wheel. It's a very cool design that indeed makes repairing a flat tire no harder than with a normal chain bike. The Rohloff/Gates system has been really well thought through in the Americano Rohloff.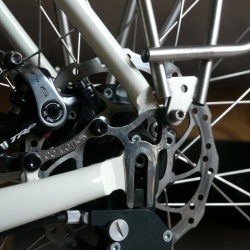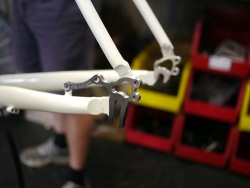 I also added the "Pathfinder" integrated light and charging system. It's basically a Son light and front-wheel dynamo, a Plug USB port, and braze-ons on the fork for clean wiring. Now I never have to worry about charging batteries. I can plug my bike GPS into the USB port for long touring days. I even mounted an attachment for the rear light on my handlebars so I can use the built-in USB charger to keep my rear light fully charged too. Dreamy.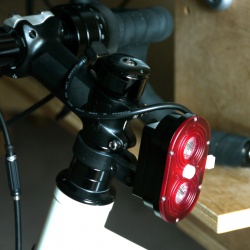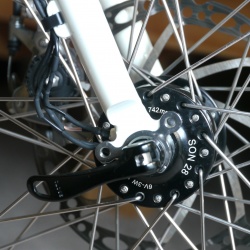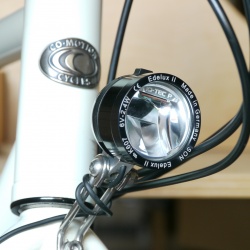 When asked what saddle I'd like, I asked their recommendation and they set me up with the Selle An-Atomica touring saddle. I didn't realize it would be leather, and being vegan, wouldn't have chosen it had I realized. In the end though, it's a wonderful saddle and I'm doing my best to treat it very well so it'll provide a lifetime of service. It squeaks somewhat frequently but that's easily remedied by slightly tightening the single tensioner.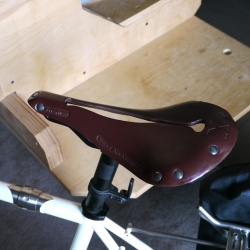 Bent Up Cycles in Hollywood served as the builder and intermediary to Co-Motion for me. Dana knows Rohloff and all-things mechanical and handled the first-time assembly wonderfully.
I did have difficulty with the TRP brakes. The bike would shudder significantly when using the front brake alone. After a few attempts at adjustment, we sent the brake and fork back to Co-Motion. They couldn't find any problem but sent a replacement brake. When the issue remained, Dana gave up and swapped the TRP out for an Avid brake. The problem was largely solved… The Avid works great but still doesn't feel totally solid, as if there's a bit of play in the fork. I'm only comparing it to my previous rim-brake bike, however, so I'm not sure that's not how the system should feel.
The rear brake has also been a little quirky, now making a slight twiddling noise all the time. Someday when I'm in Oregon I'll take the bike to Co-Motion and see what they think. I'm confident the brakes are safe, and that Co-Motion will take care of me if in fact something is awry, but if you're ordering a new bike, you should ask if they've fixed the TRP issues or go with another option.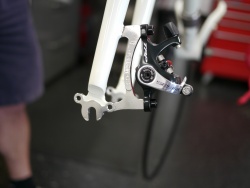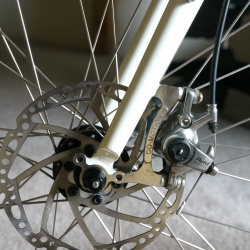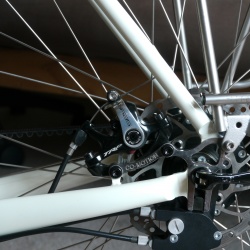 So that's the bike. I absolutely love it.
The cost
The first question everyone asks is "how much?" My bike configuration (Rohloff Americano with stainless drop-outs, Pathfinder light package, and couplings) comes to a little under $8000. Most people are shocked to hear this number. Most also laugh when they hear it's substantially more than the price I got for my used Prius. But it's a mistake to think this bike is expensive.
In the year or so I've had it, the bike has already started to save me money. It was $2000 more than the car I sold, but by riding this bike instead of driving, I've saved that much already. AAA estimates a total cost of car ownership in 2014 of about $.50/mile. So my average of 10 miles a day means I'll save $2000 per year, potentially for 10 or more years, and that doesn't factor in the health benefits and quality of life improvements that come with biking.
That having been said, one could certainly achieve the same result for less money. The Rohloff/Gates system isn't a necessity, and adds more than $1500. The couplings and stainless-steel drop-outs are a long-term luxury, and I would be happy with my old, home-charging light system. I could have gone with a high-quality, production bike from Surly or Trek, and it would get the job done for less than $2000. But why skimp, when the ultimate dream-bike is still going to save me about $20,000 over 10 years? Isn't it telling that the world's very best, most expensive touring bike is still dramatically cheaper than driving a used Prius? Every starving artist should have one of these!
I feel so lucky to have this perfect bike. It is joy to have something so carefully hand-crafted and to use it every day for something as empowering as transportation. Thank you to Co-Motion and Bent Up Cycles for making this possible!
Summary
PROS
Super-sturdy, comfy, beautiful
Love the Rohloff Speedhub and Gates Carbon Drive combo
Built-in lighting package, USB-device charging!
CONS
Wonky front brake
Initially squeaky Gates Carbon Drive and Selle Anatomica saddle
WORTH IT?
bob says:
April 23, 2015 at 12:15 am

I had the same shuddering front brake problem on my Comotion Americano. After much tinkering and let downs my mechanic finally diagnosed the problem to be a little too much and uneven paint on the disc brake posts . He faced the posts and now the brakes work like a dream. It was a $30 fix that exponentially increased the front brake performance. I had no problems with my rear brakes.

 

kris replies:

April 24, 2015 at 6:00 pm

Oh my gosh, thank you for the good lead, Bob! The (minor) problem still persists so I'll check with my mechanic next time I'm in the shop. Hope to see you out on the road sometime!

Update: When I broke the bike down during a bus/bike tour, I found a single shim washer on one of the six rotor screws that connect the rotor to the hub.  Removing this reduced the problem, but didn't remove it entirely.
Mark Drury says:
September 12, 2015 at 4:21 pm

Nice review — thanks for sharing! I've never read the complaint you mention about needing to take all pressure off the pedals when shifting the Rohloff — that may be something you wish to run by your local bike mechanic, or by the good people at Rohloff, as I can't imagine that's by design.

Kris replies:
It only seems to happen between gears 7 and 8 and it's apparently just the way the Rohloff works.
Jim Luther says:
September 28, 2015 at 7:12 pm

I essentially have the same bike – minus the Rohloff. I use it for touring and rarely take it out for day or weekend rights – but I 100% agree that this is a phenomenal bike.
roy clyburne says:
January 29, 2016 at 9:47 pm

Great bike. I recently purchase an Americano/Rohloff bike. Twice with-in 500 miles the rear wheel became loose. I re-tighten booth times with a lot of pressure on the quick release and it stayed tight for about 200 miles. Just re-tighten the second time and weighting to see if it happens again. Has anyone else encountered this problem?

 

kris replies:

January 30, 2016 at 1:57 pm

Hello fellow Americano rider! That's scary about the rear wheel. That hasn't happened here but sometimes when I'm tightening the rear quick-release, I think I'm close to having the right tension and then suddenly it's too loose. It's as if part of the centering spring was caught between the face of the dropout and the skewer nut, or the nut itself wasn't sitting flush on the dropout or something. I'll be careful too and let you know if I find/hear anything.

Do you have the couplings? I used mine and Pilot travel case for the first time last week on a Greyhound trip. The first pack took forever (12 hours maybe?!) but now that I have all the frame wraps ready and the packing order down, it only takes about an hour. The frame just barely fits (I have a 58cm).

The next experiment is air travel with the Co-Motion, then there's no stopping us!

Happy riding!

 

roy clyburne replies:

January 31, 2016 at 9:42 pm

Thank you for your thoughts on my loose wheel problem. I'll be keeping a close eye on the problem and hoping it won't be happing again. If it does or doesn't happen again with-in the next 500 miles I'll let you know.

I didn't get the coupling bike. However, I might wished I had as my riding partner and I will be flying to Canada to finished the last part of the Pacific Coast Ride we haven't completed. (Canada to Portland)

Thanks again…

 

roy clyburne replies:

October 20, 2016 at 7:58 pm

I now have over 3,500 miles on my Co-motion and haven't had any more problems with a loose rear wheel. Must have been me tightening the quick release. Bike has been great. I love the ease of shifting and on the 10 plus miles down hill runs with heavy rain the disc brakes work great.

 

kris replies:

October 21, 2016 at 11:55 am

Glad to hear it! I made a really dumb mistake recently with my QR… I rode about 8 miles with the quick release entirely disengaged, including some stretches of 25mph and a standing climb or two. I didn't realize it until I got home and went to lift my bike up the steps. The back wheel started to fall off and I realized what I'd done. I can't believe I didn't hurt myself. Scary!

In case others want to learn from my stupidity… I had released the QR early in the morning to transfer a trailer attachment to my friends' bike. In a rush, I left it undone and went about getting her bike set up. By the afternoon when it was time to go home, I had completely forgotten about the whole thing.

Moral of the story – always take the time to tighten the quick release immediately!

 
Doug says:
December 31, 2016 at 5:10 pm

Nice review and helpful comments. I have almost the same build in a 2011 or 2012 60-cm frame that I bought used (fully equipped) a few years ago for commuting but it seems a bit short for me to risk it on a long tour (I'm 6′ 3″). I have flat handlebars equipped with the Rohloff twist shifter, but for touring I would like drops with the Co-Motion shifter to allow more body positions while riding. Can't bring myself to spend the extra dollars though. Maybe someone would like to trade handlebars/shifter combinations? I have Avid disk brakes, a Tubus rear rack, plastic fenders, bottle cages and battery-operated rear light installed along with the front dynamo hub and Edelux headlight. With SPD pedals, and bike tools & pump in a bag under my Brooks B17 saddle, the bike weighs in at 34.9 lbs (15.8 kg). I'd be interested in hearing what other Americano-Rohloff bikes weigh in their riding configuration. I haven't had any issues with any component and really enjoy the bike, with the exception of the whirling noise when in gears 1-6. I always wonder if my energy is going into something other than forward motion!