Published on Tue, 2017-01-17 23:00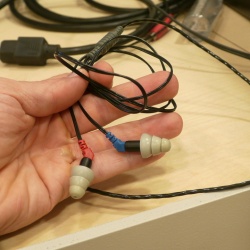 For the last nine years, I've used and enjoyed a pair of Etymotic ER4 headphones. They've served me well for general music listening and recording, and with the custom-fit ear molds, were the most comfortable headphones I have. About a year ago, the end of one of the headphones suddenly snapped off. I sent Etymotic a message about repair, though I didn't have my original receipt, and figured the headphones were well out of warranty. Etymotic asked me to send them in. A week later a new pair arrived in the mail, free of charge! I was so impressed with the service, I couldn't help but write a review.
The good
Great sound – clear, music is well articulated.
Great noise isolation – great for bus, airplane, etc.
Silent operation – great for recording since there's no leakage. Useful for finding the sweet spot when close-miking.
Durability – the stems of the headphones that replaced my original versions have been strengthened.
The not-so-good
Sound isolation: Isolation is so good that the headphones can't be worn when walking around. It's dangerous!
Cable noise: When the cable rubs against a zipper or other rough surface, you can hear it through the cable.
Considering these headphones gave me eight years of great sound before needing repair, and that Etymotic then replaced them for free, the ER4s are my go-to headphones when I need isolation.