Published on Wed, 2012-04-18 10:09
[originally published at OnEnsemble.org]
A little while back I commissioned an odaiko stand from master-drum-maker, Mark Miyoshi. The stand has arrived… and it's everything I wanted!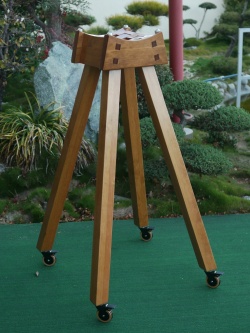 Mark Miyoshi's basic odaiko stand design is awesome. The legs join together with pegged wedges and slide into beautiful joinery in an upper saddle.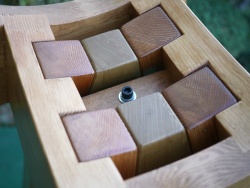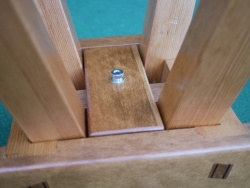 I asked Mark to make my stand approximately 49″ high (so that the center of my drum is at 58″~59″), with through-tenons, and from recycled wood. The finished version comes in at a perfect 49″, including casters. The through-tenons are gorgeous. The wood is 100% recycled. Mark found very nice, old-growth, douglas fir at a northern-California reclaimed-wood supplier and finger-jointed multiple planks to create large enough pieces. It clearly was a lot of work to join these pieces and fill holes. Click one of the images below to see Mark's handiwork up close. Amazing!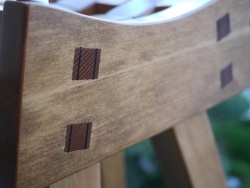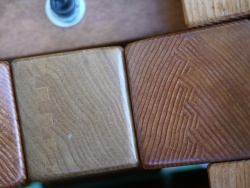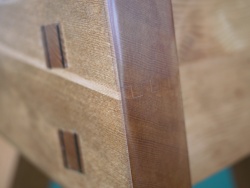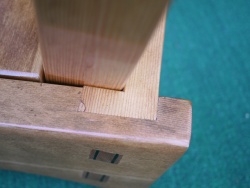 He finished it with a simple, natural tung oil. Although Mark worried that the wood would be too soft, I wanted to err on the side of making the stand lighter-weight, and won't mind minor dings and scratches that come with softer wood. I replaced the standard bolt and wing-nut with some hardware I had on hand.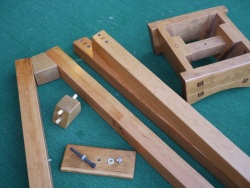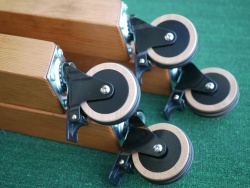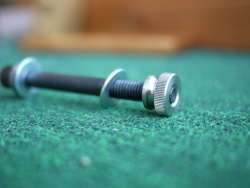 In use, the stand is fantastic! The 49″ height is perfect for me (I'm 178cm or 5′ 10.5″). The casters I picked are only single-locking (the locks stop the wheels from turning but not the casters from rotating), but they are sufficient to keep the stand in position while I play.
I love this stand and am excited to put it to more use. It's an honor to support Mark Miyoshi, a talented, thoughtful craftsman. This stand will provide a lifetime of service. Off to practice! Thank you, Mark!