Published on Mon, 2018-01-08 20:25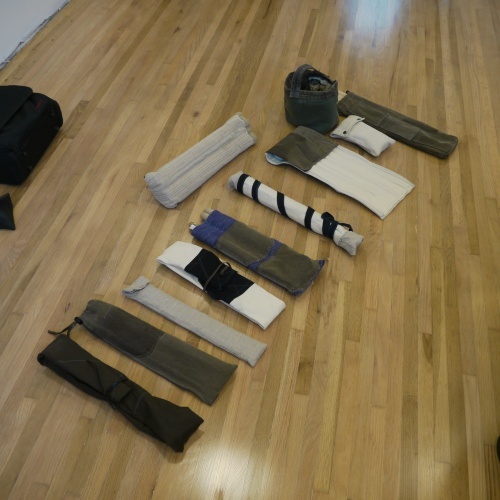 For many years I've owned and loved a Tony Yagami bachi bag.  Unfortunately, I don't use it as often as I'd like because it's both too big and too small.  It doesn't hold all the bachi I need for a complicated rehearsal and it's too big for me to cart to practice everyday.  It's been an intractable problem that often left me without the sticks I want.
The new approach is to have many bachi bags, each made for a specific type of bachi.  This has made it easier to keep the brushes I'm most passionate about with me all the time, and grab the additional sticks as I need for specific rehearsals.  It seems to be a good solution so far.
Hiro and I talked through the designs together and then she quickly fabricated them with fabric on hand.  (Hiro also made bags for associated tools like my tripod, camera, and audio recorder.)  Thank you, Hiro!  They're working wonderfully!
http://k--b.org/items/bachi-bag-large-mallets
http://k--b.org/items/bachi-bag-small-drum
http://k--b.org/items/bachi-bag-drum-sticks
http://k--b.org/items/bachi-bag-brushes
http://k--b.org/items/bachi-bag-nagado
http://k--b.org/items/bachi-bag-rutes
http://k--b.org/items/bachi-bag-mallets
http://k--b.org/items/bachi-bag-lighted-bachi
http://k--b.org/items/case-tripod
http://k--b.org/items/case-zoom-h5-audio-recorder
http://k--b.org/items/case-panasonic-gh1-camera