Published on Tue, 2008-11-11 21:36
[Originally published as "Shamisen wrap-up" at OnEnsemble.org]
Wow, what a week! The concert and the natori ceremony are complete! More than anything, the support of friends and On members has been very, very special to me.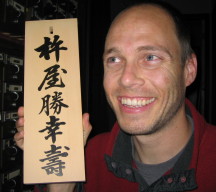 Natori plaque
Thank you to Hiromi Ashmore for all the help organizing lessons for Sensei while I was in the theater. I couldn't have survived the week without you!
Thank you to Hiroka for the tireless help with food and taking care of Sensei.
Thank you to Maz for the amazing job transcribing, memorizing, and practicing Taiko no Kyoku. You were amazing through the whole thing. Listen to the track below from about 8:30... Maz is amazing!
Thank you to Shoji and Kelvin for putting up with me through all the craziness.
Thank you to Johnny Mori for helping to make the performance possible and for participating in the ceremony. It meant a lot to me!
Thank you to On Ensemble's fans and the FoundatiOn Team for the incredible response before and at the event, and for your financial and emotional support.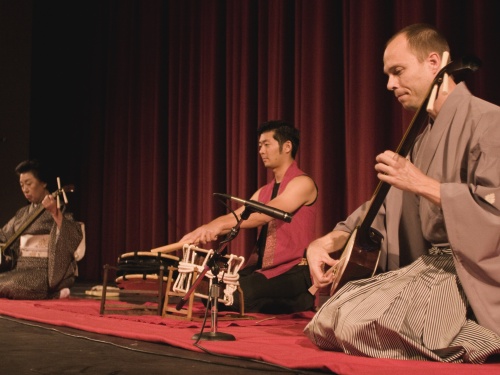 Thanks to all of you, I had the honor of performing Taiko no Kyoku with my teacher. I'm usually terrified when performing shamisen, but this time I had a lot of fun. I made a number of mistakes, but it was definitely the best I've ever played in performance.
The one mistake that'll bug me for a long time is the very beginning of the piece... with all the applause, I couldn't hear Sensei's cue, so I missed the first note. Sensei gave herself a hard time for not playing louder but it was really me who was distracted. Ah well, it gives me something to shoot for next time!
Without further ado, here is the recording of the piece from On '08 : Yobu!