Published on Sat, 2008-09-06 16:17
[Originally posted at OnEnsemble.org]
I've been doing some research on trailer parks and I'm excited to learn that they're a viable option.
Gardena area:
most mobile-home sites come with the mobile home but...
RV spaces open, sufficient size
reasonable rent
First I called the Gardena Village Mobile Home Park.  It turns out that their lots are owned by the residents.  The organization is a corporation made up of the resident owners.  They pay only for monthly services and management expenses, an average of $300.  They have homes for sale, but no open sites.
I also talked with Gary at Ace Trailer Park.  He was friendly and very helpful.  There is a set of new mobile home sites that will be on sale in the not-too-distant future, 15'-20' wide by 28'-40' deep.  There are two RV slots currently open, though he said they are generally hard to come by.  The RV slots are rented month-to-month for a maximum of 6 months.  Rent is $600-$700 depending on the hookup.
I also called the Gardena Trailer Lodge.  The office manager, George, was really friendly and offered to show me around.  The sign said "Gardena Village" so I'm confused about where Gardena Village ended and Gardena Trailer Lodge began, but anyway George let me know the scoop.  The sites rent for $574/mo, which includes water, trash, and sewer services.  They rent month to month and there are two sites currently available.  The sites are 23' wide and 38' deep.  There is a mandatory 3' setback from the site edge, so that there is a 6' gap between adjacent buildings.  He said he thought they have height limitations but had never encountered them.  The tallest building on site was about 15.5' high.  One interesting point was that the management company is gradually trying to raise the aesthetic level of the place, so they are somewhat strict about the look of new homes on the site.  The feel of the place was fine; quiet and clean.  The people I ran into were a little suspicious of a skater with a camera poking around, but I guess that's to be expected.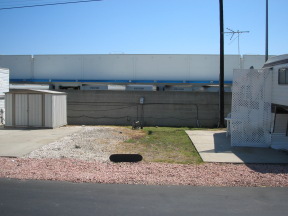 Open lot at Gardena Trailer Lodge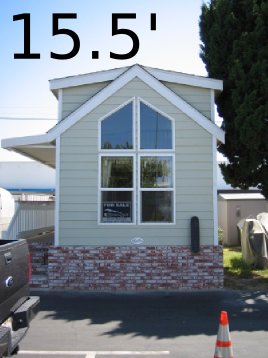 Tall-ish trailer home

Various mobile home hookups
Lancaster area:
RV sites likely available, $300/mo
Some mobile home parks have only RV storage (no hookups)
Shady Elms 661-948-3350 -- RV spaces of varying sizes with hookups available.  $300/mo.  Month to month rental with no maximum length of stay.
Chaparral Mobile Estates -- No empty lots... only mobile home sites w/ existing houses.
Air Lane Trailer Park -- spoke with Ben, no "5th wheel" units.
Left messages at Johnson's Mobile Home Park, Golden Sands, Crestview.
Overall impressions:
I'm excited to know that trailer parks have some potential.  The size of an RV lot is plenty big and RV spaces are regularly available.  A 17' high trailer doesn't seem to be out of the question.  Even in Gardena, where the average median home price is $390,000, a site is pretty affordable.  And the hookups look straightforward and pretty flexible.  If it is indeed possible to put a "5th wheel" trailer home on a more permanent site, I can totally imagine living in a trailer park for a while...
I was surprised to learn two things in particular: a home's looks matter when applying, and some RV lots have a maximum length of stay.