Published on Sat, 2019-03-16 17:20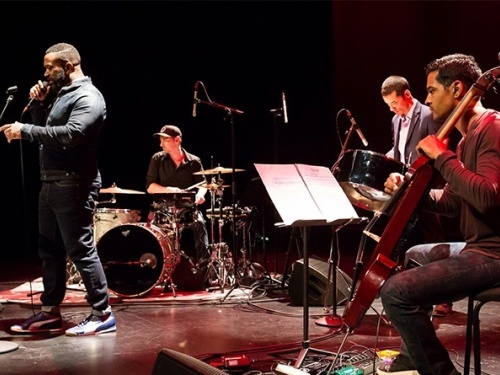 Miyamoto is Black Enough is Andy Akiho (composition and steelpan), Sean Dixon (drums), Jeffrey Zeigler (cello), and Roger Bonair-Agard (spoken word) and their music is the perfect mix of mind-expanding music and poetry, plus booty-shaking grooves.  In one of his emcees, Roger struggled to define the group's genre...  Might I suggest "Steel Hop"?
The set featured about 10 pieces and drew a satisfying path from a high energy start, to a contemplative middle, back to a banging end.  For me, Andy's music is the perfect fit for Roger's voice and poetry.  Andy's broad pallette and rich, engaging orchestration keep the music engaged with the vocals.  (Think the opposite of bad-bongo spoken word.)  Roger's poetry sometimes floats above the instruments and sometimes drives forward with the groove.  Roger uses repetition and dynamics really effectively and manages to dodge the cliches of spoken word.  There is freedom for Roger to speak out of time with the music but there are also plenty of moments when the spoken word catches the complicated changes.  It's an amazingly satisfying ride.  The set feels well-written and well-practiced.  After the show, Hiro said to me in Japanese, "Saisho kara, suge~ kakko ii."  ("Badass, start to finish.")
The spoken word, full-ensemble pieces are intersperced with instrumental features.  My favorite was Sean's drum feature.  Playing over triggered synth samples and eventually over a loop, his playing is adventurous and tasteful.  It feels great!  My mom commented, "I don't like drum solos, but I loved that."  Sean has a fairly minimal setup -- kick, snare, hat, one floor tom -- to which he adds a trigger pad and an effects box / keys I couldn't see.  Most drummers these days are incorporating samples and I've seen a lot of shows recently where the mix didn't feel right, or the samples felt out of place.  At a Dermot Kennedy show, for example, many of the pieces moved from triggered drum samples with the highs filtered and a bit of reverb, to live drum sounds.  It was fine but it was the kind of effect I thought might be possible accoustically (a la Rob Turner).  The stuff that worked best for me there were vocal and synth samples that were further from the accoustic drum sounds.  Anyway, after seeing multiple bands like this I was thinking I should steer clear of trigger pads for percussion... and then Sean plays this show.  The percussion samples -- brighter snaps and claps, plus a satisfying smooth subkick -- totally fit with the accoustic kit, and with the other instruments.  I get the sense I'll be studying Sean's playing from here on.
A few random notes/ideas in case they're helpful...
I really like all the musicians using different extended techniques for their instruments.  Maybe Roger would have fun with a tin can / cardboard tube / safety cone for his voice too.
The cello feature feels a bit long in its current position.  If Roger's poetry solo came before it, would that help us transition down to that mood?
How to make the cello backing track more aggressive?  Distortion?  Full-range amp on stage?
In the second-to-last piece in the set, Andy is playing a fast ostinato on the pans for a while and the music drops back down.  It's probably too cheesy for Andy but I was hearing the drums enter and everyone going full-bore before the short cello outro.
I wish there were a way to see Andy's hands.  Are any pans ever angled away from the player?
The final piece of the show is based on Aka, one of Andy's first compositions, and one that he and Sean have played together for more than a decade.  This version was absolutely killing.  The perfect end to a great show.
Miyamoto is Black Enough is sponsored by National Sawdust.  Kudos to them for supporting this one-of-a-kind project.  And thank you to The Wallis for hosting a killer concert!