Published on Sat, 2014-11-08 11:48
[Originally posted at OnEnsemble.org as "Recent book reviews – November 2014"]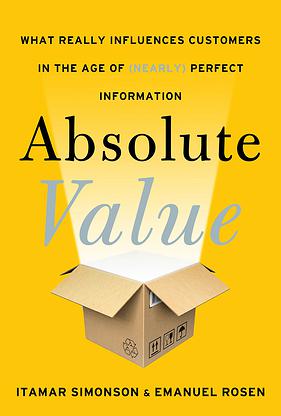 Absolute Value — What Really Influences Customers in the Age of (Nearly) Perfect Information
Itamar Simonson and Emanuel Rosen
pub. 2014, 232p
source: LAPL
I despise advertising. I use Adblock Edge on the internet. I mute commercials. I ignore billboards. When debating between two brands at the supermarket, I intentionally purchase the one for which I've never seen an ad. But while I do my best to resist its influence, I recognize I am not immune to the pervasive pull of marketing, especially as marketers' techniques become more subtle.
I checked out Absolute Value with the hopes of understanding advertiser's modern approaches. Unfortunately, I didn't learn much here. Nor was I inspired by a particularly revolutionary concept of marketing. Ironically, I would have enjoyed the book more if its theories had been better or worse.
The authors' central concept is that the roles of prior preference (including "brand value") and marketing are diminishing as customers have access to better information about products. This is a relatively interesting idea, unfortunately beaten to death in 200-odd pages. The book concludes that marketing should focus less on influence and trickery and more on conveying the "absolute value" of its wares. That is the same idea most marketing skeptics already have: "PR over advertising". Nothing for me changed after reading Absolute Value. I despise advertising.