Published on Sat, 2011-10-22 10:40
[Originally posted at OnEnsemble.org as "Recent book reviews — October 2011"]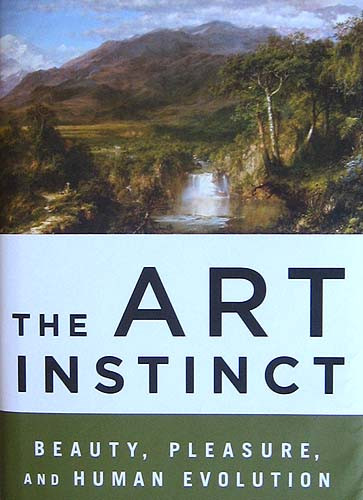 The Art Instinct: beauty, pleasure, & human evolution
Denis Dutton
pub. 2009, 278p
source: LAPL
The Art Instinct makes the case for an evolutionary basis of art and is an interesting read for someone contemplating the definition of "art". Unfortunately, my simple approach of evaluating art in terms of its total effect on the creator, the viewer, and society, was not challenged by this book. I found myself losing interest during Dutton's attempts to delineate "art" vs "craft" and it seems straightforward to me that our basic instincts should play a role in our appreciation of music, painting, and other forms of creative expression. Even when my mind wandered, however, The Art Instinct inspired thoughts about art that were useful and enjoyable.
The whole idea of asking whether a culture has a "different concept" of art from ours raises a curious challenge: you cannot even call it a different concept of art unless it shares something in common with our concept. Otherwise, why did you use the word "art" in the first place? Chapter 4 explores this paradox, arguing that cross-cultural transformations have been wildly exaggerated and misunderstood by anthropologists and others intent on exoticizing foreign cultures and denying the universality of art.
With the arts, perhaps we should regard ourselves like moths who have "succeeded in inventing a lantern in order to have fun circling it." If the arts are like the lantern, the Darwinian question is why we worked so hard to invent them and why we have such fun circling them in the first place. The evolved adaptations are there to be discovered, and so are their extensions into our artistic and aesthetic lives.
But if art is an adaptation, mere survival is a completely inadequate explanation for its existence. The reason is clear: artistic objects and performances are typically among the most opulent, extravagant, glittering, and profligate creations of the human mind… The classic case is the peacock's tail, as both Darwin and his early critics well understood… Darwin worked slowly over years developing his solution to the riddle… sexual selection by mate choice.
[random trivia] Men, on the other hand, may produce around twelve million sperm per hour and, in principle, may inseminate large numbers of women — and then abandon them at will. Thus the biggest recorded number of children born of one woman, an eighteenth-century Russian peasant, is reported to be sixty-nine, but that included many multiple births in twenty-seven pregnancies. The largest number of children fathered by one man, Mulai Ismail Ibn Sharif, a contemporary of Louis XIV, is said to be 1042, naturally involving hundreds of mothers in a harem. (This number is on the low side: it is merely when they stopped counting.)
We pay craftsmen to paint houses or repair clocks because of the dependability of learned techniques: these people know what they are doing. But in the sense of using skill to produce a preconceived result, creative artists strictly speaking never know what they're doing. Even Mozart, who could compose music faster in his mind than he could actually write it down, and might therefore look to a naive observer like he was transcribing a preconceived outcome, was fully an artist in the sense described: he did not, after all, compose his music before he composed it. The domain of craft is one of recipes, instruction books, formulas, methods, and routines. The arts, Collingwood argued, are always open to the unexpected; a change in a single word or note or brushstroke can alter or even reverse not only the meaning of the work but the artist's entire objective.
As the literary theorist Ihab Hassan has put it, politics, "when it becomes primary in our lives, tends to exteriorize all the difficulties of existence. It literally makes them superficial as Sophocles, Shakespeare, and Pascal are not. Tragedy is not injustice."
Why would anyone find it awkward when two women show up at a party coincidentally wearing the same evening dress? Where did we learn to react in this way? The answer is that we didn't simply learn it, as we learned the road code. The sense of awkwardness comes from an intuitive recognition that an evening dress — along with the coiffure, the makeup, the jewelry — ought in the context of a party to be the expression of an individual personality, ought to show the originality of a person. … If personal distinction is a basic desideratum in social life, it is much more important in the life of art. … The fascination, sometimes near obsession, with individual expression is evidence for its being an extension into the arts of an evolved adaptation relevant to interpersonal recognition and evaluation — something that has come about, no doubt, through a pathway in sexual selection.
If you are an artist, the most enduring way to achieve a lasting artistic success is to create works of aesthetic pleasure that are perceived as yours. Cheap sentimentality in art traffics in emotions that are everybody's: that is why soap opera is a genre art; consumers of soaps have little curiosity about who writes them.
Psychologically, some of the most staggering moments in aesthetic experience, the ones we may remember all our lives, are those instants where the events that make up the whole of a vast novel, an opera, or a poem, sonata, or painting fall meaningfully into place. … The are marked by the utmost lucidity and coherence.
The evolutionary implications of waist-to-hip ratios for art history are not unlike the evolutionary implications for the presence of sweetness in food. That sugars are found in all cuisines and that sweetness makes some foods more attractive for evolutionary reasons does not mean that a bowl of corn syrup and a plate of sugar will ever be dinner.
The kitsch object openly declares itself to be "beautiful," "profound," "moving," or "important." But it does not bother trying to achieve these qualities, because it is actually about its audience, or its owner. Thus an expensive and ostentatious set of "great works of literature bound in hand-tooled leather" does not exist for the sake of the actual literary works it contains.