Published on Fri, 2011-04-01 09:16
[Originally posted at OnEnsemble.org as "Recent book reviews – March 2011"]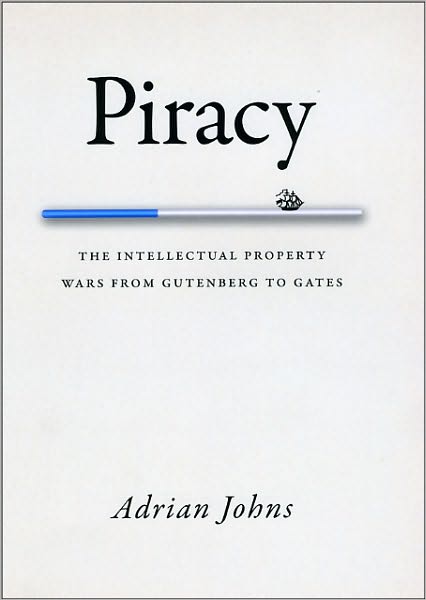 Piracy – The Intellectual Property Wars From Gutenberg to Gates
Adrian Johns
pub. 2009, 626p
source: LAPL
Piracy is a remarkable work of scholarship, outlining in extensive detail the expansive and colorful history of the term. Despite the fact that the author spent 10 years writing it, the book is up-to-date on the ever-changing issues. The writing has a wonderful clarity and precision that confers deep authority. It's hard for me now to read other works of historical scholarship and not miss Johns's tone. His opinions on our current context are understated and kept secondary to the historical narrative, making tiny glimpses of his stance on the issues all the more weighted.
At 500+ pages, it is more scholarship than some might want on the subject, but I feel greatly enriched for having read Piracy.
It is notable that Atkyns's (an earlier proponent of patents) argument was in principle a very general one. Its ambit was by no means restricted to the book trade. He himself claimed that if it failed then patents for inventions as well as patents for books would fall to the ground. Less speculatively, his complaints applied equally to many other kinds of commercial life, since crafts were generally organized into corporations similar to the Stationers' Company. And indeed, one can readily find parallel contentions being made in different crafts at this time — a moment when old guilds were declining and the future constitutions of trades were in the balance. Atkyns himself drew a parallel with a brewers' company. Such a company, he pointed out, might well insist on its own internal regime, and this too would be illegitimate in principle. But in practice it would be far less damaging than a Stationers' regime. The implications of a mundane craft corporation's autonomy extended only to revenue; but the Stationers dealt in belief. That was what made their assertions of autonomy, epitomized by the register, so dangerous. As he was writing, moreover, Parliament was agonizing precisely over petitions from brewers' companies against royal prerogative in the form of excise duties. "If the Brewers, who at most can but steal away a Flegmatick part of the King's Revenue, deserve the serious Consideration of the Supreme Council of England," Atkyns reasoned, "how much more these, that do not onely bereave the King of his Good-Name, but of the very Hearts of His People"? In short, between a brewer and a Stationer "there is as much at oddes, as between a Pyrate that robs a Ship or two, and Alexander that robs the whole World."

That line marked the culmination of Atkyns's long argument — the crux of his bid to restructure the culture of print in genteel, Tory, absolutist terms. It also marked the beginning of the long history of intellectual piracy.
Enlightenment traveled atop a cascade of reprints. No piracy, we might say, no Enlightenment.
It was the concept of piracy that sparked the articulation of a principle of literary property, moreover, and not vice versa.
(For Kant) It followed that what was wrong with unauthorized reprinting was nothing to do with property. What made it an offense was that it mixed authorship up with mediation. In effect, it was a form of ventriloquism: the pirate hijacked another person's voice."
If literary property and rules of authorship were so central to enlightenment, why did the Irish model (where copying was tolerated) not collapse into chaos and ignorance? Why, on the contrary, did it seem to thrive as never before? That is a question that merits being asked in the present tense too. … Our own knowledge industries are united with economists and legal authorities in proclaiming that a formal system of intellectual ownership is a sine qua non. Many historians and critics too have argued that the inauguration of such a system in the eighteenth century represented a progressive transition into modernity. Eighteenth-century Ireland no more supports that position now than it did then. Quite simply, it puts to the test all conventional views conjoining print, property, and progress.
It is notorious that for the better part of a century the United States made a virtue of what the British — and eventually the Americans themselves — called piracy.
Polanyi believed that patents were dubious extrapolations from a false understanding of creativity itself. They presumed to "parcel up a stream of creative thought into a series of distinct claims, each of which is to constitute the basis of a separately owned monopoly." In reality, discoveries were not atomistic in this way, but drew on "the whole network of human knowledge." … Intellectual proprietorship was irrational and corrupt. "The nature of knowledge" demanded "the abolition of patents."
The fallacy of large-scale laboratory science was its ambition to hoard knowledge in one place (the team, or the lab itself). The patent system was the counterpart of this in legal terms.
… a tie between authorship and credibility. That tie seemed by now to be the axiom of good order in creativity and commerce. How to reconcile it with the powers of the Internet remains a central question of our time.