Published on Sun, 2010-10-24 15:12
[Originally posted at OnEnsemble.org as "Recent book reviews – October 2010"]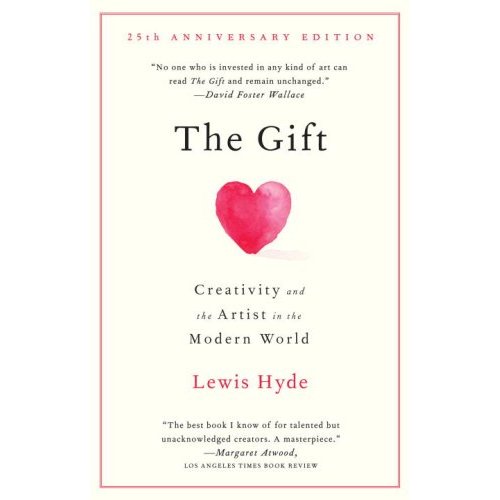 The Gift: Creativity and the Artist in the Modern World
Lewis Hyde
pub. 2007, 435p
source: LAPL
The Gift comes with strong recommendation from artists and authors including Margaret Atwood and Zadie Smith, and I came to the book with high expectations. All told, I enjoyed Hyde's thought-provoking reflections on scattered topics, but didn't find my sense of 'art' reflected here.
The first half of the book deals with the interaction of market forces and art through the examination of a variety of traditional gift societies. The second half examines the lives of Walt Whitman and Ezra Pound, and their approaches to art. The progression is anything but orderly, however, and the book jumps among a variety of loosely-connected topics. While I found the diversions interesting, I've come away from the book without a cogent sense of its intent, and can only piece together this review from the notable passages I marked.
"When trade is 'clean' and leaves people unconnected, when the merchant is free to sell when and where he will, when the market moves mostly for profit and the dominant myth is not 'to possess is to give' but 'the fittest survive', then wealth will lose its motion and gather in isolated pools. Under the assumptions of exchange trade, property is plagued by entropy and wealth can become scarce even as it increases."
"My grandfather was a bricklayer.
My father was a bricklayer.
I am a bricklayer.
How come I don't have a house?"
"… ours, was the age of monopoly capitalism, an economic form whose code expected and rewarded the conversion of gift wealth to market wealth (the natural gifts of the New World, in particular — the forests, wildlife, and fossil fuels — were 'sold in perpetuity' and converted into private fortunes). In a land that feels no reciprocity toward nature, in an age when the rich imagine themselves to be self-made, we should not be surprised to find the interior poverty of the gifted state replicated by the actual poverty of the gifted. Nor should we be surprised to find artists who, like Whitman and Pound, seek to speak to us in that prophetic voice which would create a world more hospitable to the creative spirit."
I regularly struggle between the market and gift economies in my work as a musician and found Hyde's exploration thought-provoking. Hyde's exploration gives the market a fairer shake than the above quotes might suggest, and I agree with his basic assumption that artists must be very careful that the market not undermine their work. I try to limit my material needs for happiness and limit my income to sustaining only that lifestyle. I want to charge the least possible amount for my time and services.
I also appreciated Hyde's interjections on gender and his scepticism of the institution of marriage.
"This last is what is onerous to us in the idea that a woman may be given in marriage… For where men alone may give and receive, and where women alone are the gifts, men will be active and women passive, men self-possessed and women dependent, men worldly and women domestic, and so on, through all the cliches of gender in a patriarchy."
"And to break the system that oppresses women, we need not convert all gift labor to cash work; we need, rather, to admit women to the 'male', money-making jobs while at the same time including supposedly 'female' tasks and forms of exchange in our sense of possible masculinity."
"The artist who hopes to market work that is the realization of his gifts cannot begin with the market. He must create for himself that gift-sphere in which the work is made, and only when he knows the work to be the faithful realization of his gift should he turn to see if it has currency in that other economy. Sometimes it does, sometimes it doesn't."
I found myself thinking about On Ensemble's pay system, which now pays members per day, and for both rehearsals and performance. I often worry that by monetizing our rehearsals, we are doing damage to our creative sphere and interpersonal relationships. But how else to pay ourselves?
Unfortunately, I found the author's underlying sense of the artistic spirit to be essentially flawed. Hyde seems to believe in a sort-of mythical, mysterious creativity, and to believe that art is somehow separate from science and logic.
"…another form of evil: the use of the will when the will is of no use… At times when the will should be suspended, whether it is good or bad is irrelevant… For when the will dominates, there is no gap through which grace may enter, no break in the ordered stride for error to escape… and for an artist, no moment of receptiveness when the engendering images may come forward."
"Where an inner gift comes from, what obligations of reciprocity it brings with it, how and toward whom our gratitude should be discharged, to what degree we must leave a gift alone and to what degree we must discipline it, how we are to feed its spirit and preserve its vitality — these and all the other questions raised by a gift can only be answered by telling Just So stories. As Whitman says, 'the talkers talking their talk' cannot explain these things; we learn by 'faint clues and indirections'."
These kind of statements are very off-putting to me. I don't feel an internal struggle between the logical mind and the creative self. I think such distinctions belie a misunderstanding of logical thought and a romantic view of creativity. Inside the creative human is no mysterious spirit. There is no magic. There is the enormously complicated and beautiful brain reacting to the world. Discussion of creativity as "magical", is lifeless, un-empowering. What is a would-be artist to do with a statement like, "I open myself to the creative spirit…"? How do we talk about the "muse"? We don't. There is nothing to be said in response to "God gave me this gift".
Instead, as artists, we need to push ourselves to speak concretely about our work and about the creative process. A statement like, "I wrote this song inspired by memories of my childhood home…" does little to spur artistic discussion. On the other hand, the statement, "I chose this tempo because I thought it feels equally 'exciting' and 'controlled'…", invites exploration. The listener can say, "Hrm… I would have thought 90bpm would have been better, because to me…"
Art can be evaluated with the same values we measure an apple, a map, or a bridge. Is this thing, all-told, good for the world? That is the essential question, and it is only answered by hard thought.
After having read Dance Notation and Labanotation, I'm enamored with Ann Hutchinson Guest. I was extremely excited about Your Move, in which Guest explains the "Language of Dance approach to the study of movement and dance." The notation is a slightly simplified version of Labanotation, taught piece by piece along with movement exercises. Unfortunately, I found myself less inspired than expected, both by the writing, which feels a bit hand-holdy, and the aesthetics of the notation which doesn't start to look beautiful until the later chapters. With regards to the Laban system and taiko, however, Your Move has been the most immediately applicable, and this will be a go-to book if I return to Laban for more in-depth exploration. There were a number of good quotes.
If you focus on leaving the situation where you were, rather than on moving to a predetermined new spatial placement, the action is more likely to reflect true motion performed for the sake of moving, of enjoying the process, rather than of achieving a particular "picture".
The lateral symmetry of the body makes it easy for us to gesture with arms and legs into the open side directions; the crossed side directions are not as comfortable and require practice. In the case of one-sided crossing, the range can be augmented by including some degree of accompanying turn in the shoulders or hips; however, other parts of the body must hold the original front so that the sense of lateral direction is not lost.
In dealing with space, there are infinite points toward which we can move, or through which we can pass… However, the human eye is limited in discerning minute differences in spatial location… Other than very small vibrating movements… it has been found that a 15 degree difference in arrival at a destinational point is the smallest degree with which we need be concerned.