Published on Fri, 2018-07-20 01:19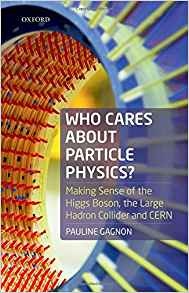 Who Cares About Particle Physics?: Making Sense of the Higgs Boson, the Large Hadron Collider and CERN
Pauline Gagnon
pub. 2016, 245p
source: LAPL
I thoroughly enjoyed this overview of the LHC and the Higgs boson.  The author was a researcher at CERN and provides an inspiring view into both the technical and social successes at LHC.  Gagnon describes spending two years checking each of 118,224 wires in one of the tracking systems, and the 100 million channels of one of the detectors.  Mind-blowing.  She also goes in-depth into the loose management structure at the project.  No one is directly in charge.  Groups form to make proposals on potential contributions and members use concensus or vote.  LHC, like gnu/linux, is another example of a project so massive and complicated that hierarchy is unproductive.  Gagnon rightfully talks about women and LGBTQ+ involvement in particle physics and some of the things the community could do better.  Gagnon seems like a sharp physicist and an enlightened person.
I will admit I was taking a few critical notes on the writing as I made my way through the book.  The gentle intro seemed unnecessary (to paraphrase, "if you don't know anything about physics, this is the book for you...").  I remember thinking, "note to self... I don't like references to other sections.  Don't say, 'As we saw in chapter...' or, 'we'll return to this...'."  Some of the photos at the beginning were silly (like colliding football players meant to represent particles) but the behind-the-scenes shots at LHC definitely made up for it.
This is well worth the read and one of the most interesting books on LHC I've come across.