Published on Sat, 2010-08-28 07:00
[Originally posted at OnEnsemble.org as "Book reviews – dance notation"]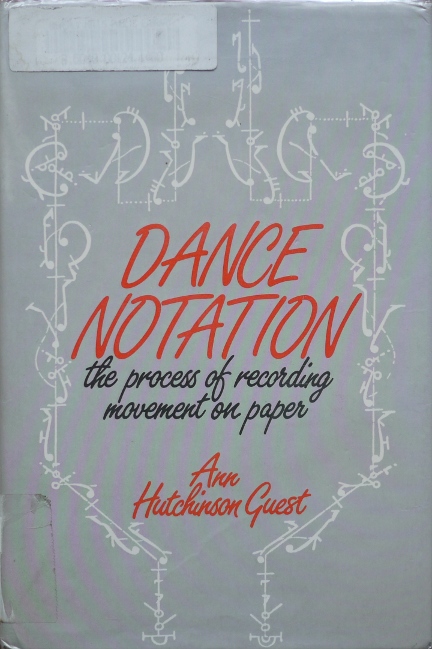 Dance Notation – The Process of Recording Movement on Paper
Ann Hutchinson Guest
pub. 1984, 226p
source: LAPL
With chapter titles like "Why is dance notation needed?" "How is movement described?" "Degree of specification in movement description" and "Evaluating a [notation] system", Dance Notation is a fabulous book and the best I've found on the subject! It is the perfect resource for exploring the variety of notation systems available. Guest is a master notator in the Laban style but her more general appreciation of all forms of notation shines through in unbiased, inquisitive language.
Dance Notation led me to the realization of why I seek a notation system for taiko form, rather than simply recording video. Guest compares dance notation to that of music, "The second reason that records and tapes are not used in rehearsing a [musical] work is that these do not represent the work itself but a performance of that work… Each performer and conductor wants to be able to go back to the work itself recorded in the notation and to bring the music to life in an individual, personal way." She goes on to explain experiments where dancers learn from video and from notation. The notation students perform better, presumably because the notation provides direct access to the intent and concept of the movements. With my goal of sharing taiko movements and form, I am attracted to the "essential" quality of good notation, and the promise of improved understanding of my own movement biases.
I gleaned a number of notes for myself to remember over the coarse of developing or finding a system.
A useful notation system can indicate exaggeration of timing, isolated movement, variation in spatial pattern, and quality of movement.
"A sophisticated, versatile approach to timing had to wait for the twentieth century, when the idea of length on paper to indicate length of time (duration) was established… This device frees movement notation from its bondage to music notation…"
Labanotation combines four factors into one symbol: "direction of the action (shown by the shape of the symbol), level (shown by the shading), timing (shown by the length of the symbol), and the part of the body moving (shown by its placement on the staff)."
"Laban always advised: 'Write more than seems necessary; better to have too much detail than not enough… In direct contrast… Benesh preached redundancy avoidance: 'Eliminate everything you possibly can.'"
"The Language of Dance approach to movement study… features movement notation because it provides a means through which to explore the nature of dance."
"Writing errors were more common than reading errors, indicating that the perception and cognition of movement itself is more difficult than the reading and performance from notation."