Published on Sat, 2011-10-22 10:40
[Originally posted at OnEnsemble.org as "Recent book reviews — October 2011"]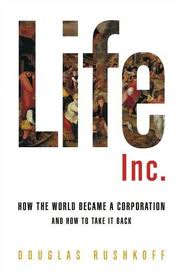 Life Inc. — How the World Became A Corporation and How to Take It Back
Douglas Rushkoff
pub. 2011, 247p
source: LAPL
Life Inc. is a stirring condemnation of the developed world's shift of values to economic priorities and corporate power. Although I don't have the historical knowledge to refute or verify much of the evidence presented, even read with skepticism, the book is compelling. The final chapter encourages individual action and is a relief from example after example of corporate greed. The book changed the way I listen to NPR's "Marketplace" program and solidified my desire to build a home without taking out a loan.
The problem was that, unlike railways, cars required public space to operate. Who would build, and pay for, all the roads? Although it might have seemed logical for drivers to pay the tolls and taxes required to maintain automobile thoroughfares, this would have discouraged people from buying cars in the first place. Instead, the automobile companies, as well as tire manufacturers, oil companies, and, of course, land developers, pressured the government to pick up the tab. While GM's role in dismantling the city streetcar has been overstated, the company did identify the cities where trolly systems were vulnerable, and then created competetive lines that put them out of business. Once this was done, GM would convert the new system into a bus line — serviced by GM's buses. Then GM would divest itself of the company. This practice spurred the transition from city streets that served pedestrians, merchants, and kids along with trolleys, to roads that served the automobile.
For his first client, Dichter took on Betty Crocker. The new instant cake mixes were failing, but why? Dichter's free-association sessions with housewives revealed that the product's image of ease and convenience made these women feel guilty — as if they weren't really providing for their families, or being adequate mothers. So Dichter suggested that Betty Crocker give housewives a greater sense of participation. By removing egg from the mix, and requiring women to break and add a real egg instead, the company could turn the procedure into an unconscious symbol of fertility and nourishment. After making this change, Betty Crocker saw sales soar. Dichter became a sought-after consultant and millionaire.
The landscape of corporatism favors the selfish over the social, the brand over the product, and the central over the local. This is why our search for solutions has been so stunted; we look for nationally branded answers to problems that can be approached only on a local or a personal level. We are drawn to solutions that offer the same instant gratification as consumption, the same frictionless immediacy as high-end salesmanship. Political leaders have all the emotional power — and insubstantiality — of the tested images on which their campaigns are based. As long as we experience the world from the perspective of its corporate conglomerates, we will remain oblivious to the activity and opportunities still available to us on a human scale. We will continue to fight on a battlefield that was created to benefit corporate actors while disempowering and dehumanizing real people.
Through the World Bank and the International Monetary Fund, lender nations would be in a position to assist developing nations with huge injections of cash. By accepting the loans, however, borrower nations would be obligated to open themselves to rules of free trade as established by the international lending community at Bretton Woods. … Taking a loan meant opening one's ports to foreign ships, and one's markets to foreign goods. It meant allowing foreign corporations to purchase land within a country, and to compete freely with any domestic company.
The department-store sales floor is no less coercively biased than the the playing field on which free-market competition supposedly takes place today. The store uses the language of free and fair competition to justify near-absolute control over its empoyees; salespeople fight over a supply of customers made artificially scarce through overemployment, and learn to measure their own success against the failure of others. … Under the guise of promoting its workers' self-direction, the store manages to pay less for more work. The greater competitive marketplace, likewise, works under the presumption of a natural and free contest between self-directed individuals, unencumbered by "senselessly" debilitating regulations.
Given the premises he worked under, Hayek's conclusions were intelligent enough… When it's working as designed, the free market can accurately predict and address a wide range of human needs, with a minimum of central planning. … But both principles are operating in a social landscape and economic framework dominated by their own forced implementation. We built this economy from the ground up — at the expense of other social mechanisms — and then used its existence as evidence that this is the way things have always been. … By accepting greed as the foundation and the market as the context of all human interaction, we ended up replacing a coplex ecology of relationships with a much simpler and balance-sheet-friendly set of zero-sum equations.
There is a vast middle ground between attempting to design a socialist welfare state and leaving self-interested individuals alone to spontaneously develop a free-market utopia — especially when the rules of that marketplace have been imposed by forces as powerful as any dictator. To approach that middle ground, however, we must dispense with the assumption that human beings were born to be economic actors or, in Hayek's more nuanced view, that we were all the unconscious arbiters of natural market forces. The principles of the intentionally corporatized marketplace are not embedded in the human genome, nor is self-interested behavior an innate human instinct. If anything, it's the other way around: a landscape defined by the competitive market will promote self-interested behavior.
In a practice first introduced in ancient Egypt, a farmer would reap his harvest and bring it to a grain store. The grain-store operator would then hand the farmer a receipt, indicating the amount of grain, wine, or other commodity he was storing on the farmer's behalf. This receipt then served as money. … The local coinage was not saved for long periods, because it didn't earn any interest. In fact, the longer it was kept, the less it was worth. That's because the person storing the grain had to be paid, and because a certain amount of the grain was lost to water, rats, and spoilage. So once a year on market day, if the grain had not been claimed, the grain-store operator collected his fees by reissuing the money. … He simply issued new coins with a new date imprint, and exchanged back, say, three coins for every four he collected. … Hoarding money meant losing money. … The fact that the currency cost money encouraged people to think of other ways to create value over time. On average, at least 10 percent of gross revenue was immediately invested in equipment maintenance — a higher percentage than at any time since. … The coexistence of these two kinds of currencies [locally vs nationally-recognized currencies] with very different purposes and biases led to an economic expansion unlike any we have seen since. Sometimes called the "first Renaissance," the late Middle Ages offered an enviable quality of life for ordinary people. The working class enjoyed four meals a day, usually of three or four courses. They worked six hours a day, and just four or five days a week — unless they were celebrating one of about one hundred fifty annual holidays. Medievalists from Francois Icher to D. Damaschke almost unanimously agree that between the eleventh and thirteenth centuries, the quality of life of Europeans was better than at any other period in history, including today.
Alan Greenspan, a disciple of Ayn Rand, repeatedly deregulated markets, leading to the average CEO's salary rising to 179 times the average worker's pay in 2005, up from a multiple of 90 in 1994. Adjusted for inflation, the average worker's pay rose by a total of only 8 percent from 1995 to 2005; median pay for chief executives at the three hundred fifty largest companies rose 150 percent. The top tenth of 1 percent of earners in America today make about four times what they did in 1980. In contrast, the median wage in America (adjusted for inflation) was lower in 2008 than it was in 1980. The number of "severely poor Americans" — defined as a family of four earning less than $9,903 per year — grew 26 percent between 2000 and 2005. … In 1894, John D. Rockefeller, the richest man in Guilded Age America, earned $1.25 million — about seven thousand times the average income in the United States. In 2006, James Simons, a typical hedge-fund manager, "earned" $1.7 billion, or more than thirty-eight thousand times the average income. On top of this, hedge-fund managers' salaries are taxed at "capital-gains" rates much lower than the rate that average workers pay…
Those of us who don't understand the capabilities of computers are much more likely to accept the limits with which they are packaged. Instead of getting machines to do what we might want them to do, the machines and their programmers are getting us to do what they want us to do.
The 95 percent of Gates Foundation holdings that aren't spent on charities each year often work against the very causes the foundation tries to champion. A study by the Los Angeles Times revealed that 41 percent of Gates Foundation investments have been in companies that counter the foundation's charitable goals or socially concerned philosophy. … It holds $1.5 billion of stock in the very drug companies whose pricing policies are restricting the flow to Africa of medicines that the foundation is supposedly trying to get there.
An even more promising variety of complementary currency, like the grain receipts of ancient times, is quite literally earned into existence. "Life Dollars," such as those used by teh Fourth Corner Exchange in the Pacific Northwest, are not exchanged for traditional currency. Instead, members of the Fourth Corner Exchange earn credits by performing services or providing goods to one another.
Finally, we must fight the notion that redirecting our concerns in this fashion represents a retreat into provincial self-interest. The efforts may be local, but the effects are global. Every gallon of gas we don't burn is a few bucks less going to exploit someone in the Middle East. Every student we educate properly has more potential to create value for us all. Every plate of chard we grow is another patch of top-soil saved, another square foot of room on a truck, and another nail in the coffin of Big Agra. Every Little League game we coach is an assault on the obesity epidemic, every illiterate adult we teach to read may become one fewer welfare case to fund, and every hour we spend with friends is that many eyeballs fewer glued to the TV. The little things we do are big, all by themselves.