Published on Sat, 2012-09-01 17:40
[Originally posted at OnEnsemble.org as "Recent book reviews — August 2012"]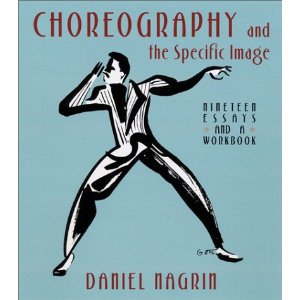 Choreography and the Specific Image
Daniel Nagrin
pub. 2001, 274p
source: LAPL
When reading this book I spent much of my time trying to figure out why I wasn't enjoying it more. Nagrin's writing style is slightly off-putting to me, perhaps because his self-deprecation sounds either false or out of place. This was my next choreography book after Rainer's Feelings Are Facts — a hard act to follow — and there are definitely useful dance ideas here. But for some reason I wasn't able to engage with this book.
"Who are you?" "Where are you?" "What are you doing?" We had to be specific although the dance could be very abstract in its final form. Helen was merciless in how we had to pin down those three questions.
Instead of going out to the surface with the action you can go inside with it. … So if I were going to touch Daniel, I wouldn't have to show that I was touching him, but I could feel the touch inside without actually touching him, and so my stomach might be reacting to the sensation of touching him and the whole body would respond to that experience in a subtle and non-literal way.
"You have to know more about what you're doing than anyone else. If anybody in the audience knows more than you about what you're doing, you're in trouble."
… the passion and the power comes first and the polish comes later.
The best thing you can do for an audience is ignore them.
THE SIX QUESTIONS:
1. Who? or What?
2. is doing what?
– action analysis:
— a. the spine
— b. the beats
— c. the subtext
3. to whom? or to what?
4. where/when?
5. to what end?
6. engaging what obstacle?
Every one of these improvisations calls upon the dancer to initiate movement from an inner action. In all this work, the choreographer and the dancers are always digging into the material with the aim of discovering the movement metaphor that poeticizes the action or the verb.
The obstacle cannot be invented. It needs to be discovered within the nature and matter of the concept.
It is better to squeeze all you can out of a little than to create a panorama of constantly new dance phrases.
Don't discuss your ideas with anyone except your collaborators, not even after the work is completed, is being performed and in your repertoire. Just dance and shut up. … Paul Taylor added…, "Amen, however, interviewers need help. Tell them the dance is about 25 minutes."
Always question recycled dance material.