Published on Sat, 2012-09-01 17:40
[Originally posted at OnEnsemble.org as "Recent book reviews — August 2012"]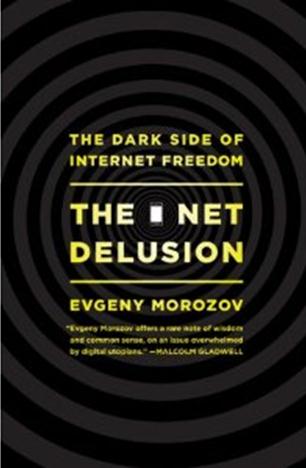 The Net Delusion — The Dark Side of Internet Freedom
Evgeny Morozov
pub. 2011, 409p
source: LAPL
The Net Delusion makes a strong case that the internet is not inherently liberating. While it can be used to empower individuals, it can also empower regimes, and in some cases is weighed more heavily in favor of them. The book demonstrates numerous cases where the internet is being used to suppress democracy and argues that our focus on software-based anticensorship tools are less effective than policy-based pressure on governments to reduce excessive restrictions on free speech.
Will we choose democratically-minded bittorrent to share our creations, or the corporate, censored, hierarchy of iTunes?
… the Twitter Revolution hyperbole revealed more about Western new media fantasies than about the reality in Iran. "The west was focused not on the Iranian people but on the role of western technology," says Tehrani, adding that "Twitter was important in publicising what was happening, but its role was overemphasized."
Twitter … has refused to join the Global Network Initiative (GNI), an industry-wide pledge by other technology companies — including Google, Yahoo, and Microsoft — to behave in accordance with the laws and standards covering the right to freedom of expression and privacy embedded in internationally recognized documents like the Universal Declaration of Human Rights. Facebook … refused to join GNI as well, citing lack of resources, a bizarre excuse for a company with $800 million in 2009 revenues.
China's microchip manufacturers must have been laughing all the way to the bank when Reagan predicted that "the Goliath of totalitarianism will be brought down by the David of the microchip."
Western policymakers should rid themselves of the illusion that communism ended quickly — under the pressure of information or fax machines — or that it was guaranteed to end peacefully because the whole world was watching. … Technology may have played a role, but it did so because of particular historical circumstances rather than because of technology's own qualities. Those circumstances were highly specific to Soviet communism and may no longer exist.
From the (Russian) government's perspective, it's far better to keep young Russians away from politics altogether, having them consume funny videos on Russia's own version of YouTube… The most effective system of Internet control is not the one that has the most sophisticated and draconian system of censorship, but the one that has no need for censorship whatsoever.

…

If anything, the Internet makes it harder, not easier, to get people to care, if only because the alternatives to political action are so much more pleasant and risk-free.
Despite the reductionist models that have made many in the West believe that information can destroy authoritarianism, information also plays an instrumental role in enabling propaganda, censorship, and surveillance…