Published on Thu, 2013-11-21 23:11
[Originally posted at OnEnsemble.org as "Recent book reviews – November 2013"]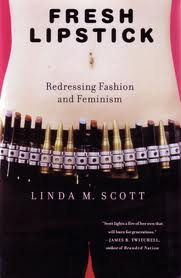 Fresh Lipstick — Redressing Fashion and Feminism
Linda M. Scott
pub. 2005, 358p
source: LAPL
In the last few years I've felt increasingly insecure about wearing costumes when performing. Although On Ensemble's costumes are my favorite anywhere, a growing sense of in-authenticity has complicated my desire to dress up on stage. Or perhaps a deepening relationship with my everyday clothes is the culprit. I gave up dress clothes about 10 years ago. Perhaps I should do the same on stage. Hoping to better understand my thoughts on fashion generally, I've recently focused on a series of books with wide-ranging perspectives on the subject. Fresh Lipstick was the first, and my attempt to better understand the relationship of fashion and feminism. It was a great place to start.
Since childhood, I've worried about the pressure fashion places on women. Observing my grandmother's fastidious maintenance of her appearance, her morning ritual of makeup and weekly visits to the hair salon, I came to think of fashion as oppressive; one more way earlier generations of women are forced to conform. Images of my sister spraying her hair before prom and my mother's sideways glances in mirrors before a party were remnants of that earlier era. This upbringing, plus my general distaste of consumerism and advertising, has made fashion an art I've never trusted. Fresh Lipstick makes it clear, however, that these are not the only effects of fashion; that fashion can fulfill innate needs of identification and expression and that authenticity and naturalness are more complicated than they appear.
As expected, most of the books arguments relate to feminist thought and history, and don't quite address my own criticisms. The author conflates a rejection of clean, new clothes with a rejection of hygiene, for example. In my ideal world, a stain would not end the life of an otherwise useful piece of clothing. So while I remain wary of fashion and unconvinced that women are not largely oppressed by it, having read Fresh Lipstick I have a more nuanced understanding of fashion and feminism.
Thus, it is never possible simply to "opt out" of the discourse of dress. No one can dress in a way that signifies nothing.
By slumping their shoulders, ducking their heads, and averting their eyes in the presence of an aristocrat, commoners acknowledged their inferior status and communicated their willingness to serve. In contrast, gentry had to maintain perfect posture at all times — the slightest slouch signified the servility required of common-folk. Aristocratic clothing was designed to help keep their bodies upright and in place.
The imperative to maintain grooming even under the worst circumstances is testimony to the principle outlined by Adam Smith that the most basic needs are not "biological" but involve those goods, whatever they may be, that allow a person to be seen as "creditable" in the eyes of the community. As sociologist Michael Schudson points out: "Human needs are for inclusion as well as for survival…"
A manicure provided another important mode of social contact: touch. Getting a manicure is one of those acceptable ways of being touched by someone who is not necessarily an intimate.
I think it's fair to infer that the turn to makeup was originally related to the emulation of actresses.
Rather than being a symptom of insecurity or a strictly sexual sign, body and face painting creates, overlays, and reinforces patterns of categorization and gives play to the whole range of distinctions that human imagination can produce.
Many feminist essays complain that makeup and other grooming practices are "lies" because they cover up the "true self". This argument is flawed by the supposition that the self is an authentic essence prior to experience — thus preexisting, already made, but knowable at will.
Today's feminists would not begrudge the expression of sexual orientation and desire through dress within the lesbian community, but the attitudes that pathologize the same behavior from a heterosexual female are still powerful.
… the critique is based on several assumptions peculiar to the conditions of its time. Although these observations have not held up over the decades, they have continued to be believed as myth. One is the belief that the beauties in the media are predominantly blond. … Then there is the myth of The Face. … we were told that fashion presents us with one standard of beauty at any time. … A third is the one in which the "youth worship" of the culture is condemned for rendering older women useless and unappealing.
The most radical [feminist] groups developed a philosophy of dress that reduced appearance to sex appeal and attributed all control over personal presentation to men. By treating self-presentation as a purely gender-determined issue and by refusing to recognize that differences among women, as well as personal identities and private desires, were visibly expressed in ways far more subtle than was allowed by this thinking, the movement side-stepped several issues that left them vulnerable to an ambush…
But Total Women were afraid of the feminist movement because it seemed to threaten the only security they had — their husband's income.
Yet the gender gap in incomes is consistently associated with motherhood — it is not a straightforward connection to gender. Women under forty who are childless make 98 percent of men's salaries — nearly equal. Once children are present, the gender difference emerges: Mothers make 75 percent of men's salaries. And this is not just a problem of would-be wealthy career women. Women between the ages of eighteen and twenty-four are 60 percent more likely to live in poverty than men.
… indeed, the more you look at it, the more contradictions there are: a culture where women are held in place by being "desexualized," not "sexualized"; a place where women are oppressed by not allowing men to ogle them. … in Afghanistan there is no fashion industry, no advertising.
By taking this position, the self-declared leaders of this movement push us into a way of dealing with life that is fundamentally inhumane. By ignoring the way that self-decoration expresses the human force of creative expression — the song of the self to come into being — and by denying the strength these practices can bring at moments of depression, dislocation, and even death, the antibeauty critique engages in cultural cruelty.