Published on Sat, 2013-04-13 09:00
[Originally posted at OnEnsemble.org as "Recent book reviews – April 2013"]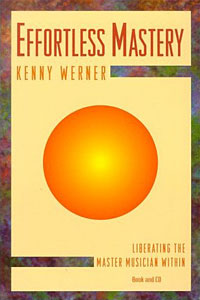 Effortless Mastery
Kenny Werner
pub. 1996, 192p
source: gift
This is a fantastic book on musical practice and artistry! Although Werner's way of describing his philosophy sometimes seems very different than mine (almost "spiritual"), I found so much in this book that resonated with me I could easily see past the semantic differences. Reading it changed my practice and teaching immediately for the better. I realized, for example, the primacy of engendering a love of the instrument's tone.
Think back to the time you first touched an instrument. Remember the wondrous sound that came out? … Anything you played sounded incredible. There was so much magic in the sound! You couldn't wait to do it again. You probably didn't think there was anything to learn. You were content to hear the sound come back to you. This was the unfolding of a natural process.
Stimulated by the sound, your curiosity about music could have grown from there. If you were left alone, you might have developed various relationships to the different sounds on that instrument. The different octaves, combinations of notes… loud and soft, and so on, would have expressed something personal for you, something that "just wanted to come through." … Usually, somebody comes along (a teacher or a parent) at an early stage and breaks the groove.

In your delusion, you think that you must know eighty-five styles of music. But the fact is that I've never heard any player of note who plays in any style but his own. Have you? It may not be an original style, but it is the style he has embraced. You may think that you can never repeat yourself, but jazz is not total improvisation. If you listen to any great improviser, from Art Tatum to Charlie Parker to John Coltrane, you'll notice that they always repeat themselves. … As they are not afraid of doing this, it comes out as "their voice" rather than sounding repetitive.
But by practicing small amounts, chewing fully and digesting everything from the lesson, extracting from it all the vitamins possible, one becomes mighty!
Summary
Mastery is comprised of two things:
1) Staying out of the way and letting the music play itself.
I accept whatever wants to come out. I accept it with love. I accept the good and the bad with equal love. Without the drama of needing to sound good, I play from an effortless space. This takes deprogramming and reprogramming.
2) Being able to play the material perfectly every time without thought.
I practice thoroughly and patiently until the material plays itself. The ego no longer terrorizes me. When the material is properly digested, it comes out in an organic way and manifests as my voice.
Imagine yourself on the stage of Carnegie Hall. A blinding spotlight is on you. There are a hundred-thousand people in the audience. They're all looking at you, and you're not doing anything but breathing! You're sitting there and your hands, or lips, or whatever you use to make music, are working by themselves. You're sitting there just breathing, and your body is playing the instrument without your participation. You're not involved.
… instead of feeling pressure, you're sitting in your chair or standing and just breathing. And your hands, feet, or lips are making the music for you. Something has taken you over … and music is being played through you … while you rest! … Imagine that …
A study was done in which the finger speed of a well-trained concert pianist was measured against taht of a non-pianist. He found that there wasn't much difference between the two. What slows the fingers down is being unsure of where to drop them.
…a quote by Samuel Smiles…
Sow an act, reap a habit,
Sow a habit, reap a character,
Sow a character, reap a destiny.
… BE PATIENT.