Published on Sat, 2014-06-21 07:00
[Originally posted at OnEnsemble.org as "Recent book reviews – June 2014"]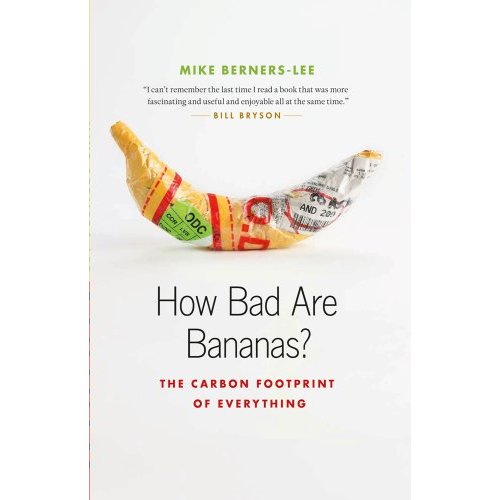 How Bad Are Bananas — The Carbon Footprint of Everything
Mike Berners-Lee
pub. 2011, 232p
source: LAPL
How Bad Are Bananas provides an honest look at the estimated carbon footprints of a variety of everyday items. This includes a defense of items that have been the target of vocal criticism, like bananas and paper towels, and items that are shockingly worse than we might imagine (like hot-house tomatoes and heated swimming pools). Berners-Lee is honest about the uncertainty of carbon footprint estimates, aiming for accuracy within an order of magnitude, and even this rough estimate is enough to reveal the comparatively large impact of our air travel, for example, compared to our microwave-versus-oven cooking efficiency decisions.
How should we deal with a situation in which the thing we need to understand [carbon footprints] is impossibly complex?

One common response is to give up…

An alternative response to the problem, and the approach that this book is all about, is to do the best job you can, despite the difficulties, of understanding the whole picture.

… the uncertainty does not negate the exercise. Real footprints are the essential measure and nothing short of them will do.

… that we find footprinting tricky is a problem for us all. The situation we are in is like sailing round the world with a map from the 1700s. How should we respond? Throw that map away and have nothing? Definitely not! Use a high-quality map of just a small part of the ocean and ignore the rest? No way. Use the maps we have but treat them with caution? Absolutely. This book is just an early map. Better ones will follow. And this book is trying to help you improve the carbon map that you carry around in your own head.
How Bad Are Bananas definitely achieves this goal. Highly recommended.
What follows are the numbers I found most helpful in refining my intuition for the carbon intensity of the things I use and do.
Cycling a mile
65g CO2e powered by bananas
90g CO2e powered by cereals with milk
200g CO2e powered by bacon
260g CO2e powered by cheeseburgers
2800g CO2e powered by air-freighted asparagus
> If your cycling calories come from cheeseburgers, the emissions per mile are about the same as two people driving an efficient car.
A mile by bus
15g CO2e one of 20 passengers squeezed into a minibus in the suburbs of La Paz
150g CO2e typical city bus passenger
A basket of strawberries
150g CO2e (or 600g per kilo) grown in season in your own country
1.8kg CO2e (or 7.2kg per kilo) grown out of season and flown in, or grown locally in a hothouse
A shower
90g CO2e 3 minutes, efficient gas furnace, aerated showerhead
550g CO2e 6 minutes in a typical electrically powered shower
1.9kg C02e 15 minutes in an 11-kilowatt, high-volume, electrically powered shower
A unit of electricity
60g CO2e from the Icelandic grid
220g CO2e from the Canadian grid
600g CO2e from the U.K. grid
660g CO2e from the U.S grid
900g CO2e from the Chinese grid
1060g CO2e from the Australian grid
A load of laundry
0.6kg CO2e washed at 30 degrees C, dried on the line
2.4kg CO2e washed at 40 degrees C, tumble-dried in a vented drier
A pair of pants
3kg CO2e my favorite old nylon traveling pants
6kg CO2e my cotton jeans
1kg of steel
0.42kg CO2e recycled general steel
2.75kg CO2e virgin general steel
6.15kg CO2e virgin stainless steel
A pair of shoes
1.5kg CO2e Crocs
8kg CO2e synthetic
11.5kg CO2e average
15kg CO2e all leather
A congested commute by car
22kg CO2e five miles of crawling each way in an average car
> A congested drive can cause three times the emissions of the same drive on a clear road
A computer (and using it)
200kg CO2e a simple low-cost laptop
720kg CO2e a 2010 21.5-inch iMac
800kg CO2e an all-the-frills desktop

13g CO2e per hour an energy-efficient laptop
69g CO2e per hour a 2010 21.5-inch iMac
165g CO2e per hour an old desktop machine
Photovoltaic panels
3.5 tons CO2e producing a solar roof capable of generating 1800 units (kilowatt-hours) of electricity per year
50 tons CO2e lifetime savings
A person
0.1 ton CO2e per year average Malawian
3.3 tons CO2e per year average Chinese person
7 tons CO2e per year world average
15 tons CO2e per year average U.K. inhabitant
28 tons CO2e per year average North American
30 tons CO2e per year average Australian
A house
80 tons CO2e
… This figure is for the construction of a brand-new bungalow with two bedrooms upstairs and a living room, a dining room, and a kitchen downstairs.
Having a child
100 tons CO2e a carbon conscious child
373 tons CO2e average in U.K.
688 tons CO2e average in North America
2000+ tons CO2e high-impact offspring