Published on Mon, 2011-05-09 13:13
[Originally posted at OnEnsemble.org as "Recent book reviews – May 2011"]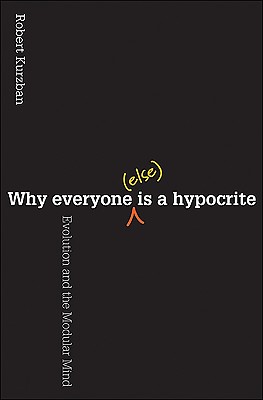 Why Everyone (Else) Is a Hypocrite — Evolution and the Modular Mind
Robert Kurzban
pub. 2010, 274p
source: LAPL
Full disclosure: I didn't finish this book. I was fascinated by the concept of the "modular mind" but a swarm of issues with the writing and presentation wore me down. The moment when I decided to stop reading was like turning off the fan above the kitchen stove; more relief than I was expecting.
The book's modular mind exploration is eye opening, and has added greatly to my concept of my own brain. Kurzban explains that the mind is a group of discrete modules, evolved over millennia to tackle specific tasks and provide specific abilities. Some of the modules are inter-connected, and others are not. Instead of a unified individual, the "self" is a sometimes collaborating, sometimes bickering, sometimes aloof set of modules. Great stuff!
Unfortunately, I found Kurzban's frequent asides and informality frustrating. The book crawls along, and the sub-chapters feel scattered. Most of the examples intended to prove our brains' fallibility were not applicable to me. When trying to show how we are irrationally optimistic, for example, (and for this I should certainly qualify!), Kurzban writes, "On average, students (incorrectly) predicted they were 50% more likely to like their post-graduation job, 41% more likely to have a starting salary above $10,000 (this was meaningful back when the article was published, in 1980), and 35% more likely to travel to Europe. On the negative side, students thought they were 58% less likely to have a drinking problem, 56% less likely to attempt suicide, and 49% less likely to get a divorce." As an anti-marriage, never-had-alcohol, happily touring musician with the goal of poverty, examples like these have the effect of reinforcing the mental delusions Kurzban is trying to reveal to me. (And I feel like a niggling prude to bring this up, but the book's font is awful.)
(Kurzban quoting Minsky) The mind is a community of "agents." Each has limited powers and can communicate only with certain others. The powers of mind emerge from their interactions for none of the Agents, by itself, has significant intelligence… In our picture of the mind we will imagine many "sub-persons," or "internal agents," interacting with one another. Solving the simplest problem — seeing a picture — or remembering the experience of seeing it — might involve a dozen or more — perhaps many more — of these agents playing different roles. Some of them bear useful knowledge, some of them carry warnings or encouragements about how the work of others is proceeding. And some of them are connected with discipline, prohibiting or "censoring" others from thinking forbidden thoughts.
… a more recent study shows that people in accidents serious enough to send someone else to the hospital rate themselves nearly identically to control subjects on self-reported measures of driving skills and safety.
James Henslin did a compelling ethnography of cab drivers who also played craps. He reported that people throw the dice harder if they want high numbers and "easier" (softer) if they want low numbers.