Published on Sat, 2013-04-13 09:00
[Originally posted at OnEnsemble.org as "Recent book reviews – April 2013"]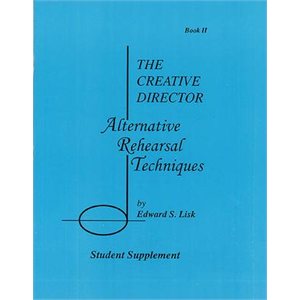 The Creative Director — Alternative Rehearsal Techniques
Edward S Lisk
pub. 1991, 220p
source: gift
The study of learning behavior and the psychology of memory points out that memory for the beginning and end of a rehearsal is almost perfect. The first ten minutes of each rehearsal is the most critical regarding the proportion of material retained.
Director Awareness Scale…
Level 1 – Key signature, Note values, Rhythm, Articulation, Dynamics, Range
Level 2 – Isolate specifics, Repeat thru logical sequential analysis
Level 3 – Form, Transitions, Design
Level 4 – Perception, Conceptual Images, Expressive qualities
Level 5 – Removed from reality, unaware of surroundings and time. "Free" of analytical detail and difficulty. Allowing the images of beauty, emotions, and expressive qualities to exist.

If a guest conductor works with your organization, he should not have to address the first three levels if the students have been properly prepared. A guest conductor should only address his inner perception of the composer's intent (levels 4 and 5), and allow the students to enter his world of expression and emotional interpretation.
When we first initiate this system of musical learning, we must remove all forms of written notation which trigger a physical or mechanical reaction tofingerings, note duration, rhythm, dynamics, articulation, etc. … This allows the student to develop auditory skills by re-directing attention primarily to pitch and its characteristics of quality, intonation, balance and blend, instead of the written notation.
By having students close their eyes and perform the many exercises in this text, we remove all distractions of the room, people, and things.
Vertical Sound Structure … removes independent interpretation of sound while directing it to the total ensemble sound. … Vertical Sound Structure creates an aural response tothe "total" or "whole" ensemble sound from bottom to top (tuba to piccolo) relative to entrance, release, and rhythmic subdivision. All ingredients of sound; tone quality, balance, blend, intonation, volume and dynamics, are maintained relative to the quality and texture of sound from bottom to top.
While playing through major chord qualities around the Circle of 4ths, have students in groups 1, 3 and 4 play at a "PP" level while group 2 plays at a "FF" level. The results will dramatically show how proper balance is achieved. …

Correct the above by having only groups 1, 3 and 4 play and then bring in group 2 with a hand signal and increase or decrease the volume of sound until it is balanced to your liking. …

The term "Chord Color" has more significance to students than other terms to identify quality of total ensemble sound.
Inform the students that it is extremely important that total silence be maintained when the entire ensemble is "sensing" and mentally counting "SILENCE". Any type of noise will distract the students intensity of concentration. If such a condition arises (movement, chair squeaking, class bells ringing), stop and wait until total silence is restored and then proceed… with a different odd number combination! The different combinations are what controls "thinking".

… establish a pulse (counting or tapping aloud) for the students to sense. Start the ensemble and count aloud during the first 2 or 3 pitches they are sustaining and for the SILENCE part "REST 2,3,4,5,etc." This is important in unifying the mental pulse.

At this point, stop counting and step away from the podium. Allow the students to continue through the Circle of 4ths on their own. When you detect a poor entrance or release, stop the organization and START OVER WITH A NEW COMBINATION OF NUMBERS.
… "step away" from the score more often during a rehearsal. The occasional "listener" role triggers a totally different auditory response and reaction!
When we are constantly working with formula structure (eliminating errors), a tendency to stifle the students musical potential is possible. Formula is based upon "pattern" and individuals must fit into this "pattern" instead of shaping the individuals talent without the restrictions or confinements of a formula. …

If rehearsals are structured toward the correction of errors … it more often than not ends as being a contrived expression. … The students are being derived [of music's] non-verbal language of expression.
… 8% of a message is communicated through Words, 37% is through the tone, nuance and vocal inflections of these Words, and 55% of this message is communicated through non-verbal body language. … it is important we give greater consideration to the body language we use when conducting our organizations…
An important state of awareness arises approximately one or two weeks before a major performance. During this 1-2 week period of time, our listening becomes far more critical and demanding… It is a "state" in which our goals for superior performance conflict with the results of our rehearsal techniques…
The most phenomenal abilities… are demonstrated by the conductor. The conductor has the ability to discern between indistinguishable error and preciseness with all musical demands of quality, balance, blend, intonation, phrasing, rhythms, technique and dynamics coupled with the individual and section relative to the total ensemble.
"Play a beautiful lullaby or ballad; start on ANY note, don't be concerned with any specific key, note values or rhythms, and focus your attention on the beauty of the notes you are playing. Don't be concerned with the direction or number of the notes, only your feeling of beauty. Your sense of beauty will lead the notes in a natural direction." …

This free form of playing should be a part of daily practice for a few minutes each day. It is the only approach which allows the student tofree themselves of the mathematical, mechanical restrictions of early instruction. This musical experience simply starts with "nonsense" and gradually evolves into "sense".
1. Direct the student to look at a phrase and silently sing the phrase to themselves. Encourage them to project the "feeling" of expression when they were playing ["free form"].

2. Do not have the student sing aloud. They become preoccupied with pitch, vocal quality, and intervals. Singing a musical phrase is extremely important but should not be attempted at this stage… we are removing restrictions and building confidence!

3. Allow the student time to internalize the subtleties of nuance and inflections. When the student feels comfortable with what they are silently singing (and holding the feelings of nuance, inflections, and shadings in their "minds eye"), proceed to the actual performance of the written musical phrase.

4. Several interpretations should be performed. Have the student choose an interpretation and repeat the phrase which they believed to be most expressive (it is important that this be the student's choice and not the director's choice).
When we use our imagination, it is error free.
First, attention is directed to sustaining one note while focusing in on air column (speed, physical feel). Second, attention is directed to mentally moving fingers while sustaining this note.
Having students trained in responding to sub-divisions… allows greater access to many more musical needs. … if a composition is written 4/4, then perform it in 8/8; or 2/4 would become 4/8; 6/8 would be 12/16… The important aspect is to create the motion and energy of double time under the basic 2/4, 4/4, 6/8 etc. time signature. This does not mean that the conductor will conduct a sub-divided pattern! …

3. While the snare drum is playing the constant eighth note pattern (not the written snare drum part) bring the band in and play through the introduction and first strain. …

4. … Pause and direct the students to silently imagine the sound of the snare drum and eighth notes. Give them a few seconds to imagine the sound and feel the motion of the eighth notes.

5. Start the march again, without any snare drum or other percussion Direct the students to hear and feel the sound and motion of the snare drum…