Published on Tue, 2010-05-04 07:00
[Originally posted at OnEnsemble.org as "Recent book reviews – May 2010"]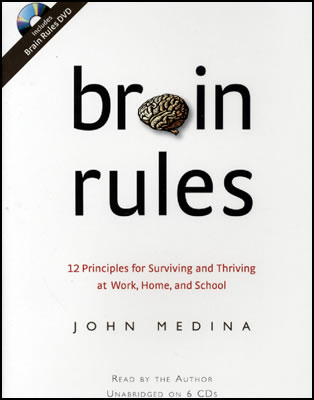 Brain Rules
John Medina
pub. 2010, 336p
source: LAPL
Shoji turned me on to Brain Rules.  It's a fun read and John Medina's gentle explanations are easy to follow.  There are moments when I felt coddled by the author; perhaps due to Medina's attempts to maintain interest through "relevant anecdotes" and frequently changing topics.  The organization of the book and overall style reflect the lessons it espouses:  concepts are presented in digestible chunks, repetition is used extensively, meaning is presented before details.
For all this, the book feels a little insubstantial to me… the way a magazine article feels compared to one of Tufte's books.  I wonder if this reveals a trained bias in me; that good art is somewhat "stand-offish".
Interestingly, my copy of the book has a hand-written inscription on the first blank leaf of the book.  It has been painted over with white-out (I assume by LAPL) but looking at the page through light from the back reveals the following.  Could it really be Jared Diamond's signed copy?!
(click pic for larger version)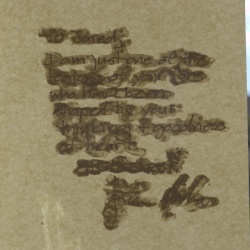 To Jared:
I am just one of the
legions of your fans
who have been
shaped by your
thinking and goodness
of heart.
All the best!
John Medina