Published on Tue, 2016-09-27 11:21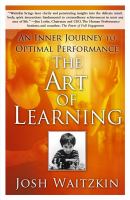 The Art of Learning, An Inner Journey to Optimal Performance
Josh Waitzkin
pub. 2007, 265p
source: LAPL
What an inspiring read!  Recomended to me by Jason Osajima -- an amazing learner in his own right -- I came to The Art of Learning with high expectations.  It didn't disappoint!
Waitzkin was a childhood chess prodigy and the subject of the movie, Searching for Bobby Fischer.  After his early successes in chess, he took up competetive Tai Chi (who knew?!) in his twentys and starting winning National Championships after only two years of study.  He went on to become World Champion.  In The Art of Learning, Waitzkin describes the lessons learned from these diverse pursuits in clear and engaging language, with the perfect balance of general and specific ideas to make the ideas applicable to the readers' own endeavors.  For me as a taiko player, his combination of world-class mental and physical abilities makes him an ideal role model.
I found his ability to turn setbacks into growth particularly inspiring.  After having his hand broken in competition six weeks before National Championships, he takes up training with one arm behind his back, develops techniques of controlling his opponent with only the remaining arm, and after having the cast removed mere days before the Nationals, wins the competition.  "I realized that whenever I could control two of his limbs with one of mine, I could easily use my unoccupied arm for free-pickings." 
There are interviews with Waitzin about learning and videos of his Tai Chi Chuan online, but I recommend starting with the book.  He seems to me most compelling when he's in control of the subject flow, and the chess and Tai Chi Chuan is most dramatic in Waitzkin's own words.
Highly recommended!
Studies have shown that in just minutes, kids can be conditioned into having a healthy learning theory for a given situation.  In one study, children were given different instructions about what the aim of their task was.  Some kids were told that solving certain problems would help them with their schoolwork in the future, and other kids were told that they would be judged based on their results.  In other words, half the kids received "mastery-oriented" instructions, and half the kids received "helpless-producing" instructions.  Needless to say, the kids who were temporarily mastery-oriented did much better on the tests.
So let's say that now, instead of launching from the standard starting [chess] position, we begin on an empty board with just a king and a pawn against a king.  These are relatively simple pieces.  I learn ow they both move, and then I play around with them for a while until I feel comfortable.  Then, over time, I learn about bishops in isolation, then knights, rooks, and queens.  Soon enough, the movements and values of the chess pieces are natural to me.