Published on Sat, 2014-11-08 11:48
[Originally posted at OnEnsemble.org as "Recent book reviews – November 2014"]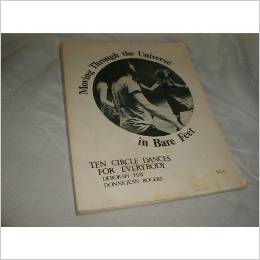 Moving Through the Universe in Bare Feet — Ten Circle Dances for Everybody
Deborah Hay
pub. 1975, 234p
source: LAPL
I love what I have read about Deborah Hay's concepts of modern dance. She seems extremely open minded and loving, and tries to widen the scope of "dance" and who can participate. She has created a series of circle dances she and others use to lead non-dancers through group movement experiences. It sounds delightful. Unfortunately, her book isn't enough to get me to try leading one.
The circle dance leader gives directions for simple movements, set to popular music. "Press the front of your face through space. Upwards… Sense the width between your eyelids. High points on cheekbones. The width of your lips…" If I had taken a workshop or participated in a dance previously, or if I were less reserved about the new-agey language Hay employs, perhaps I'd be brave enough to try leading one with friends. Unfortunately, I don't think I could pull people through the experience.
While it's certainly not Hay's fault, for the uninitiated, the book is only a thin step up a high wall.