Published on Mon, 2012-06-04 23:13
[Originally posted at OnEnsemble.org as "Recent book reviews — June 2012"]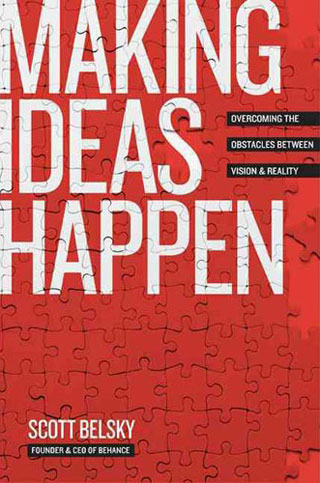 Making Ideas Happen – Overcoming the obstacles between vision & reality
Scott Belsky
pub. 2010, 242p
source: LAPL
Making Ideas Happen pulls together the key points of David Allen's Getting Things Done with input from a variety of famously productive individuals. The result is a host of good advice about how to accomplish one's goals, with specific techniques for improving follow-through. I read it while beginning the plans for my next big project and the book was inspiring and helpful.
…everything in life is a project, and every project must be broken down into Action Steps, References, and Backburner Items. It's that simple.
Sometimes you will want to create an Action Step to ensure that something is completed properly in the future.
Rather than being a nag to your team, you can create an Action Step that starts with the word "Ensure."
When you leave a voicemail for someone… you're liable to forget to follow-up if the person fails to respond. By creating an Action Step that starts with "Awaiting," you can keep track of every ball that is out of your court.
As you consider your Energy Line, you will want to make the tough decisions about what project need to live on low energy for a while. … all teams should discuss and debate how their energy is allocated. Energy is a finite resource that is seldom managed well.
If you have a partner, you'll want to divide and conquer various tasks for efficiency. Some teams create a "Responsibility Grid"… Once completed and agreed upon, this chart sends an important message about who is (and, more important, who is not) allowed to respond to certain issues.
Act Without Conviction … Traditional practices such as writing a business plan — ultimately a static document that will inevitably be changed on the fly as unforeseen opportunities arise — must be weighed against the benefits of just starting to take incremental action on your idea, even if such early actions feel reckless.
End (a meeting) with a review of Actions captured.
(author Robert Boynton) Is there anywhere you need to be in order to write? No … I don't believe the muse visits you. I believe that you visit the muse. If you wait for that "perfect moment" you're not going to be very productive.
… requesting a few feedback points for each participant under the headings START, STOP, and CONTINUE.
Nietzsche once said that you must "make yourself become who you are."
As you develop some norms and expectations for your team's work flow, try and elevate true productivity over the appearance of hard work.
Though they are often undervalued, skeptics are an essential component of a healthy team, and leaders should cultivate their respect and influence.
The best answer to a problem often dwells in the land of the unknown. If the members of your team have the fortitude to advocate for their perspectives (to debate) … then the breakthrough will reveal itself. A leader's role is to keep people engaged in the debate and ruthlessly attack apathy.
Hennes believes that his job is to listen to the stories, gather knowledge about all of the viewpoints, and then identify what he calls the "extremes" that will differentiate the project. Of all the ideas that his team comes up with, Hennes tries to find the few critical extremes that he wants to hold on to, and then commits to compromising on much of the rest.
… a creative craft is made extraordinary through developing your strengths rather than obsessing over your weaknesses.