Published on Sat, 2013-04-13 09:00
[Originally posted at OnEnsemble.org as "Recent book reviews – April 2013"]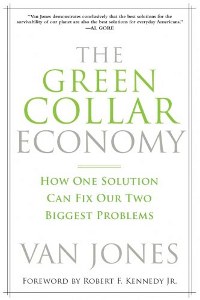 The Green Collar Economy: How one solution can fix our two biggest problems
Van Jones
pub. 2008, 237p
source: LAPL
Van Jones' work was recommended to me by a green advocate I met on tour recently. She suggested I'd love his combination of social justice and environmental activism. She was right. Jones sheds light on one of environmentalism's greatest failings; an elitism that neglects poor people. He proposes various approaches to solving climate change that focus on job creation and empowerment for the weakest in our society; the poor, the incarcerated. Inspired by these grand ideas, however, I found myself somewhat disappointed by the practical suggestions in The Green Collar Economy. Van Jones' list of success stories led me continually to ask questions like, "with a 'hybrids for hoopties' program, when does the increased fuel efficiency of a new car outweigh the lost embodied energy of the old one?" These questions are extremely complicated and outside the scope of the book, but all the same I found myself wanting a more trustworthy and forthright narrator. These points aside, it is well worth the read.
From that perspective, Indian-killing Teddy Roosevelt may have set the enduring pattern for the racial politics of the conservation movement. Viewed in the harshest possible light, perhaps his goals could be summed up simply as: "Let's preserve the land we stole, but get rid of the peoples from whom we stole it." Sadly, many of his own words and actions indicate that he had this kind of attitude. Such are the limitations and blind spots of even the greatest of human heroes.

And yet it must be said in closing, were it not for the heroic efforts of the preservationists and conservationists, much of the remaining natural wonder of North America would already be paved over. …

But history also shows that, for all of these invaluable contributions, environmentalism's early record is marred by a failure to honor the full humanity and contributions of this continent's original stewards.
The citizens of that once proud city [New Orleans] had been left to the mercies of what could only be called a "free market" evacuation plan. Everyone who owned a functioning car (and who had a working credit card) was perfectly able to flee.
Organizations working for change usually place themselves into one of two categories: single-issue groups (e.g., fighting against homelessness) or multi-issue groups (e.g., fighting against police abuse, prison expansion, and youth violence). I propose a different distinction: issue-based groups and solution-oriented groups.
The poorest fifth of Americans spend 42 percent of their annual household budget on the purchase, operation, and maintenance of their cars.