Published on Sun, 2010-10-24 15:12
[Originally posted at OnEnsemble.org as "Recent book reviews – October 2010"]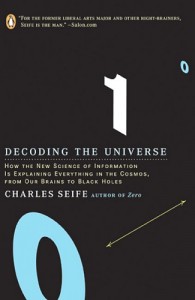 Decoding the Universe
Charles Seife
pub. 2007, 296p
source: LAPL
This is a fantastic overview of information theory and its applications to cosmology. Seife guides the reader through the current scientific definition of "information", and how information is an essential quality of matter. I particularly enjoyed learning that entropy is a measure of information, that DNA values its own interests over those of its host, and that the universe may well be in a long, slow death; the death of all information. Great stuff!
Indeed, the terms entropy and information are terribly confusing and seemingly unrelated. How can information, the answer to a question, be tied to entropy, the measure of the improbability of the arrangement of stuff in a container? As it turns out, the two are much more tightly bound than even Shannon suspected in 1948. Information is intimately related to entropy and energy — the stuff of thermodynamics. In a sense, thermodynamics is just a special case of information theory.
In fact, the information in each of our cells is riddled with fossil, hitchhiking genes. Our bodies reproduce these human endogenous retroviruses, HERVs, because the code has been inserted in our genome, not because it has any beneficial effect on the organism itself. Millenia ago, the virus genes procured themselves a free ride; as humans reproduce, the virus genes reproduce as well. We get no apparent benefit from the hitchhiker, and there is some evidence that it can do harm…
This leads to perhaps the most powerful argument that the information in our genes — not the organism that protects that information — is the fundamental element that's reproducing and surviving in the game of life. That argument is immortality. The information in our cells is essentially immortal, even though every single one of our cells, even those not yet born, will be dead in less than a hundred years. Much of the information in our genes is billions of years old, passed down from organisms that floated in the primordial ooze that covered the Earth when it was still young. Information not only can survive the death of the individual it resides in, it can also survive even the extinction of its host organism. This may be the answer to the eternal question, Why must we die? We don't. We are immortal. The catch is that the "we" in question is not our bodies or our minds; it is the bits of information that reside in our genes.