Published on Tue, 2017-08-08 00:23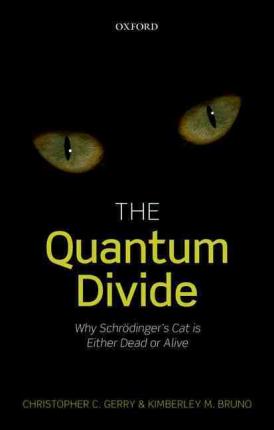 The Quantum Divide: Why Schrodinger's Cat is Either Alive or Dead
Christopher C. Gerry & Kimberley M. Bruno
pub. 2013, 201p
source: LAPL
This is one of the best popular-science books I've read!  It explains the critical experiments that have defined our understanding of quantum physics, including the double-slit experiment and its subesequent variations, as well as recent experiments in quantum cryptography and quantum state teleportation.  The logical order of the chapters and clear writing give the reader their best chance of understanding this extremely techinical and unintuitive topic.  The authors have also struck the perfect level of detail; a taste of the math butressed by elucidation of the jargon and careful progression.  I feel like I got 90% of the writing and might get the rest with a second read.
The book's approach is to explain our current understanding of the complex topic by stepping the reader through the experiments that got us here.  This seems profoundly "right" to me... as if this structure grounds the book in the same way the experiments ground the theory.
If I ever write a book about naname choreography, I should use this structure!  At the risk of straying too far from this review, and of overstating my confidence about choreography, perhaps my own "taiko theory" would break down as follows.
early experiments: form follows function
- efficiency, power, ergonomics as source for form details
- questioning received "aesthetic" decisions ("one should...", "taiko is...")
purpose and movement: the "relevance" spectrum
- Jack Bazaar and bachi paths defined by the drum
- defense of the strike (movements that disregard the strike details as cheesy)
movement improv: from tricks to bits
- systematic practice of arm swing options, paradiddles/alternating strikes, etc
- aligning the bits to the bar (when should things happen?)
arrangement of rhythm and movement
- how do rhythms lead naturally to movement and vice-versa?
- how does one arrange multiple dancers?
- what are the possibilities for using both accompaniment and leading?
Okay.  Back to the book.
The writing is level-headed and fair when it discusses the many interpretations of quantum theory, ruling out those that have been disproven by experiment and leaving room for everything else.  The authors share their (and others') skepticism about many of the theories, while making it clear when such feelings are feelings alone, or supported by evidence.  They simultaneously elucidate and perplex, with a certain honesty and integrity.  I've come away inspired by physics again... and with a structure for my upcoming "Naname Choreography" workshop!