Published on Wed, 2013-07-10 16:19
[Originally posted at OnEnsemble.org as "Recent book reviews – July 2013"]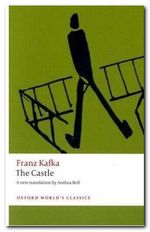 The Castle
Franz Kafka
pub. 1951, 481p
source: LAPL
Although Kafka's The Metamorphosis was one of the short stories that inspired me to be an English major, I haven't read much else by the renowned author. So after hearing from my mom that "The Castle" is worth a look, I enthusiastically dove in.
How to say it… The Castle is "engagingly tedious". The main character, K, is a land surveyor who travels to a small village, called into the employ of the nearby castle. K's efforts to secure this work are mangled in the bureaucratic messiness of the layers and layers of official procedure and the obsessively-obedient townspeople. Through all this K falls in love, giving him hope of making a space for himself in the unwelcoming and confusing society.
The work was published after Kafka's death, though the only clear indication it is unfinished is the lack of chapter titles toward the end of the work. It seems to me Kafka was practicing making the reader feel ungrounded and disconnected, like K's character must feel. Almost every description and every image contains elements of uncertainty; questions posed by K, contradictions, and long sentences with a slightly broken flow. The writing leaves me feeling like I'm teetering on being lost, even though I understand every word and am following the story. To quote a random page,
They were tired themselves after the nocturnal alarms and rising early, especially the landlady, who was wearing a wide-skirted brown dress that rustled like silk, and was rather carelessly buttoned and done up — where had she found it in her haste? — and had now laid her head on her husband's shoulder, was dabbing her eyes with a delicate little handkerchief, now and then, like a child, casting angry glances at K. To mollify the couple, K. said that everything they had told him was entirely new to him, but that even though he had not been aware of it he would never have stayed so long in the corridor, where he really had no business and certainly no desire to upset anyone, except that he was so exhausted. He thanked them, he said, for putting an end to the painful scene. If he was to be called to account for it, he would welcome that, for only in that way could he prevent his conduct from being generally misunderstood.
I found the effect very pleasing, especially when read while on tour — my own visit to new and challenging places.