Published on Tue, 2011-12-20 23:44
[Originally posted at OnEnsemble.org as "Recent book reviews — December 2011"]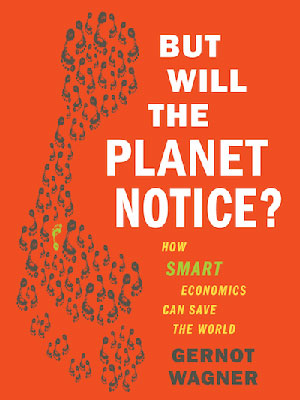 But Will the Planet Notice — How Smart Economics Can Save the World
Gernot Wagner
pub. 2011, 258p
source: LAPL
The book's ending provides the most concise summary.
By all means, de-clutter your life. Move to the city and, once there, downsize your apartment. Carry around a canvas bag. Bike. You'll be that much better prepared when everyone else catches up to your good deeds. But everyone else won't catch up to your good deeds voluntarily — not in time, and not with sufficiently strong action.

That's where economics enters the room. There's simply no way to go about tackling this problem other than taking seriously the incentives all of us face. Getting several billion of us to behave differently — to behave morally — means guiding market forces in the right direction, making it in our interest to do the right thing. It's the only way to make the planet notice.
Wagner, an economist at the Environmental Defense Fund, makes the case that solving climate change will require fundamental changes to global economies such that the cost of pollution and environmental degradation are factored into the basic costs of production and consumption. This seems entirely logical to me. I especially appreciated the examples of regulation that allows markets to work properly (Maine lobster and Alaska halibut laws).
At the risk of niggling, I don't think Wagner need emphasize the insignificance of individual action.
I never got my driver's license. My reason back when I had the chance and refused was that if a billion Chinese all start to drive, the planet will be toast, so why should I?

The problem with my logic was precisely that a billion Chinese are going to start to drive sooner rather than later. Chances are they won't take their cues from my behavior. My making the sacrifice and not driving contributes nothing to the solution: 1,000,000,000 – 1 = 1 billion.
I agree that individual action isn't enough to solve our problem, but all the same, Wagner's logic sounds great to me. Why not discuss the importance of being vegetarian, riding one's bike, and working toward fundamental economic change. Perhaps the dichotomy enabled catchy one-liners for advertising the book, but that could be my overly-sensitive, anti-advertising twitch kicking in.
However much you recycle or turn off lights, it will be canceled out many times over by your driving a car. Driving ten thousand miles in even the most fuel-efficient Prius produces four tons of carbon dioxide.
This isn't as easy as the decision to go vegetarian, as much as I would have liked to write a book like Jonathan Safran Foer's Eating Animals, a gripping essay that convinced Natalie Portman, a lifelong vegetarian, to turn vegan… The conclusion is simple: Don't eat animals. Saving the planet is in a different league altogether.
… one ton (of CO2) corresponds to the subsistence level of someone living with the bare necessities.
(Lobster-catcher) Gangs aim for self-preservation: preserving their families, their way of life, their territories, and, as it turns out, the lobster stock at sea… If lobsters left alone spawn and multiply on your very own territory, it makes a lot of sense to let some go today for a greater haul tomorrow and in years to come… Tuna, sadly is in the opposite situation. … Catching tuna is a global scuffle with factory ships chasing increasingly dwindling stocks in international waters. Letting tuna go today does not mean you will catch more next year. It means your competitor will catch them tomorrow.
Let's turn to a superbly performing fishery that uses caps on total catch the right way: Alaska's halibut fishery after 1995. … Fishery scientists determine the total sustainable catch, but instead of declaring it as the overall goal of the annual race to catch as many fish in as little time as possible, regulators print up individual shares in that total catch. Fisherman then get the guaranteed right to catch a predetermined amount of fish. That simple step makes all the difference. It's no longer a race. … The motivation to treat fishing as if it were a competitive free-for-all is gone.
Anytime we talk about carbon pollution associated with consumption — which is fundamentally the right way to look at things — we immediately get to something akin to border tariffs. … That's not a tariff for the sake of throwing a wrench into world trade. It's a tariff that would help throw a wrench into our unbridled desire to use the atmosphere as a free sewer.
… the Endangered Species act hasn't saved the ivorybill (which was very likely extinct before it was listed as endangered), it didn't save the bald eagle (that was thanks to the ban on DDT), and it won't save the polar bears (that will require serious efforts to stabilize the global climate. … We can't stop global warming by edict.
Socializing costs of private actions is the exact opposite of what libertarians would want to do, but that's what the market does, when left entirely on its own. So yes, by all means, make your own decisions about how much you would like to drive, fly, and to pollute, but be prepared to pay every last dime of the consequences. … It doesn't get much more libertarian than that.