Published on Sun, 2016-10-23 16:28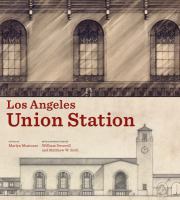 Los Angeles Union Station
edited by Marlyn Musicant with contributions by William Deverell and Matthew W. Roth
pub. 2014, 110p
source: LAPL
This is a charming large-format book that explains the design and construction of Union Station, as well as its pivotal role in the development of Los Angeles into a metropolis.  I would have loved even more information about Union Station today, its features and layout, plus more detail about the City's long-term plans, but with its charming photographs and great historical perspective, Los Angeles Union Station is a satisfying read.
key facts
"Union" refers to the combination of multiple rail companies into a single station
(versus the jumbled offerings of the main transcontinental companies, Southern Pacific, Santa Fe, and Salt Lake)
1909-1917 railroads resist
1918-1933 tortured process of site selection
design is "California style" which romanticizes Spanish heritage by Parkinson and Parkinson (father/son architects)
one of the few union stations to feature extensive landscape design, though some planned spaces were forfeited to parking
May 7 1939 Union Station opens
currently managed by Los Angeles County Metropolitan Transportation Authority
Union Station may have moved off the front pages between 1940 and 1990, but its influence on the freeway network was felt every day by the great majority of Angelinos as they moved about the city during those years... Too often the city's transportation history takes the form of a noir fantasy about a General Motors-led conspiracy that killed the street railways.  Although this story has been thoroughly undermined in scholarship, it has not disappeared from popular culture...  "a deep and virtually unbridgeable institutional chasm between transportation technologies that was rooted in the disparate histories of road and rail," as historian Louise Dyble put it.