Published on Fri, 2011-04-01 09:16
[Originally posted at OnEnsemble.org as "Recent book reviews – March 2011"]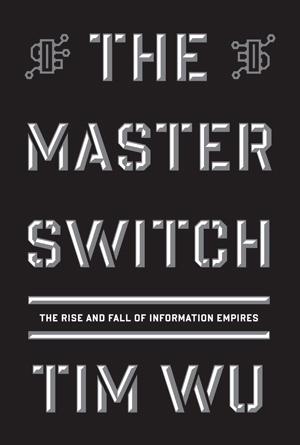 The Master Switch
Tim Wu
pub. 2010, 366p
source: LAPL
Reading The Master Switch was like meeting the other outsider at the party, and ditching the event together. Wu eloquently outlines the dangers that major corporations and public indifference pose for the internet. He puts the rise of the internet in historical perspective, outlining "the Cycle"; the birth, growth, and fall of the radio, television, and movie industries. He asks, "Is the Internet really different? Every other invention of its kind has had its period of openness, only to become the basis of yet another information empire. Which is mightier: the radicalism of the Internet or the inevitability of the Cycle?" His warnings resonate with my distaste of proprietary smart phones and of the walled gardens of Facebook and Twitter. The end of the book also suggests specific legislative reform to help maintain freedom and innovation on the internet.
The Master Switch helped me understand why Apple's design philosophy, though lauded ad nauseum as "groundbreaking" and "innovative", does not appeal to me. Wu's comparison of Steve Jobs to AT&T czar Theodore Vail is apt and damning: both sought perfection in total control. Apple's products, appealing to our basest design aesthetics (glossy, monochromatic, simple-to-use), bound within Apple's locked domain, represent an outmoded and conservative concept of design, of beauty, and of the structure of our society.
The Master Switch is a great read!
A new Google employee named Tim Bray in 2010 described Apple's iPhone as 'a sterile Disney-fied walled garden surrounded by sharp-toothed lawyers… I hate it.'
(Apple's products) are amazing machines. They make available an incredible variety of content — video, music, technology — with an intuitive interface that is a pleasure to use. But they are also machines whose soul is profoundly different from that of any other personal computer, let alone Wozniak's Apple II. For all their glamour, these appliances are a betrayal of the inspiration behind that pathbreaking device, which was fundamentally meant to empower its users, not control them."
To leave the economy of information, and power over this commodity, subject solely to the traditional ad hoc ways of dealing with concentrations of industrial power — in other words, to antitrust law — is dangerous. … what we need is something I would call a Separations Principle… A Separations Principle would mean the creation of a salutary distance between each of the major functions or layers in the information economy.
It is also possible that we could undergo such a consolidation blissfully unaware. Dazzled by newer toys, faster connections, sharper graphics, and more ingenious applications, we might be sufficiently distracted from the consequences of centralized control. … If we do not take this moment to secure our sovereignty over the choices that our information age has allowed us to enjoy, we cannot reasonably blame its loss on those who are free to enrich themselves by taking it from us in a manner history has foretold.