Published on Wed, 2013-07-10 16:19
[Originally posted at OnEnsemble.org as "Recent book reviews – July 2013"]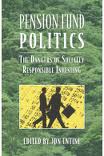 Pension Fund Politics — The Dangers of Socially Responsible Investing
Jon Entine (editor)
pub. 2005, 112p
source: LAPL
My long-term savings is largely invested in the S&P 500 (or equivalent whole-market mutual fund) and I've always felt uneasy about the lack of responsibility I'm taking for these investments. There are strong arguments for investing in the whole market. By investing in the whole market, you are essentially investing in America as a whole. Individual investments are not a great venue for enacting social change. Altering one's consumption habits to support a business one likes, for example, would be more direct and likely more effective.
On the other hand, it's undeniable that when you own stock in a company, you become an owner of that company. You profit when the tobacco company succeeds in promoting smoking abroad. I feel like I can't deny at least a measure of complicity if I own these stocks.
So I've begun reading about socially responsible investing (SRI) — the attempt to make one's investments represent one's values.
I started with a series of three articles skeptical of SRI, compiled in Pension Fund Politics — The Dangers of Socially Responsible Investing. Many of the book's arguments are irrelevant to my interests. For example, the authors make the case that investing other people's money with any goal other than maximizing the wealth of the client is a conflict of interest. The authors also believe that the power of the labor unions over investment policy disenfranchises individuals. More directly related to my situation, however, the book makes the following interesting contentions.
SRI is ineffective. The chapter by Alicia Munnell and Annika Sunden claims that the poster-child of SRI, the banning of South African companies associated with apartheid, did little to support the anti-apartheid effort. "… a comprehensive survey on the effect of the South African boycott … documents virtually no effect…" Unfortunately, a reference to the survey cited is not given.
Divesting only allows less scrupulous investors to profit. "If the stock price dips temporarily below the level consistent with the discounted value of future earnings, investors not involved with the screening will swoop in, buy shares, and restore the price." Although it contributes to the case for SRI not being effective, I don't find this argument particularly compelling. From a moral standpoint, "if I don't do it, someone else will", is not tenable.
In the end, I was glad to have read this book as I begin my research. Pension Fund Politics questions the essential tenets of socially responsible investment. While the writing is clearly biased and many arguments are unsubstantiated, the book's skepticism is worth remembering as I move on to read books biased in favor of SRI.