Published on Mon, 2012-06-04 23:13
[Originally posted at OnEnsemble.org as "Recent book reviews — June 2012"]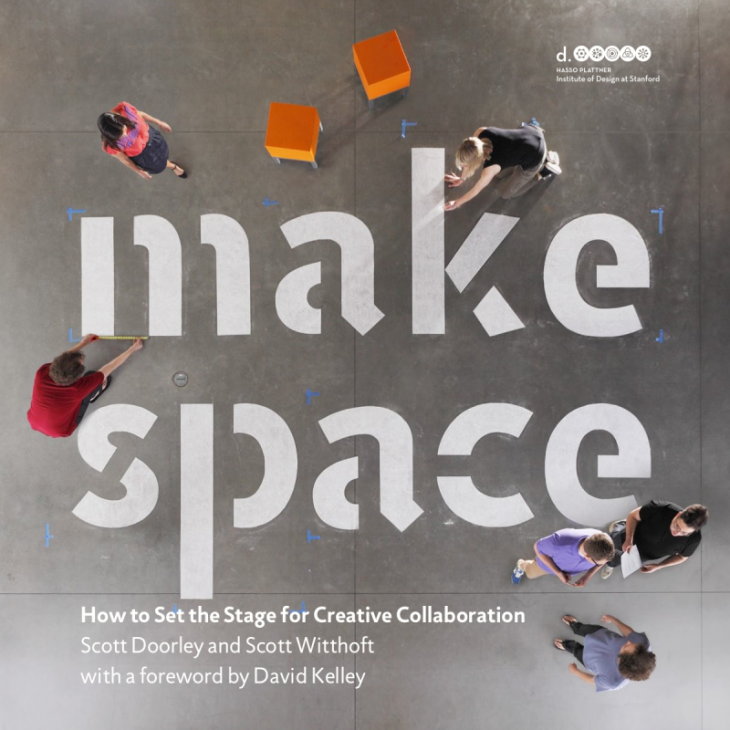 Make Space: How to Set the Stage for Creative Collaboration
Scott Doorley and Scott Witthoft
pub. 2012, 272p
source: LAPL
This book came at the perfect time. I have recently starting thinking more seriously about my dream of starting a taiko school. Many of the first practical questions deal with space. How much do we need? How many rooms? What layout? Make Space provided great advice as I think through these questions. With straightforward writing from experienced designers, the book provides both practical and philosophical perspectives on the task of designing spaces for creativity and collaboration. Although I don't see myself using too many of the DIY "tool" designs (like rolling whiteboards, presentation screens, etc), I appreciated the specific information alongside the concepts and greatly appreciate the numerous Aha! moments provided by Make Space.
Space transmits culture. … Environments can be used not just to represent cultural values but also to inspire them.
Give yourself time to prepare a space before you begin.
Giving someone storage resources can be a meaningful gesture of community connectedness.
Define your intent. Know what you want to get from each space, articulate it, and act on it.
Hopefully the space you design — and, more important, the activities within it — will be interesting enough to attract visitors. It's a good idea to anticipate and respond to the needs of callers who want to peek in on activities while preserving the integrity of the experience for the people at work. Enter the peanut gallery.
Build in little rituals.
Recommended vinyl cutter: Roland CAMM-1 Servo GX-24
The metaphorical cul-de-sac is a spot at which to linger and chat before or after a gathering.
Technology can now deliver expert-to-student content (e.g., video talks) anytime, anywhere. The ubiquity of content opens the opportunity for the in-classroom experience to support collaboration and practice with the teacher as a guide or mentor. This flip — content outside class, work in class — is often referred to as the "reverse classroom".
An idea pops up and someone wants to draw it. Always have writing materials within reach — dry-erase boards, pens, paper, Post-its… something.
Provide mini-budgets for self-motivated space design experiments. The more experiments that pop up, the more the space will bloom.
Swap standard light switches for dimmers as soon as you move in. … That restaurant you like, the one with the great vibe? It's got dimmers.
Use seats to set a time limit. Pair the comfort of your chairs with the intent of your activity.
If you want the space to sing, it has to be someone's job to drive the project and play the changes. Most organizations simply do not prioritize the continued design of space as a tool for sustained organizational operation.
… the flexibility of leveraging personal devices almost always beats out investing in an expensive machine that can solve the problem but is not used because it is unfamiliar or unapproachable.
Provide quick perches in active spaces.
Patina gives permission. The best creative spaces are highly resolved (thoughtful), but not highly refined (precious).
An open kitchen is an invitation to feel at home. … snacks keep people feeling fresh and engaged, and a visit to the kitchen provides a moment to chat. People will add to the pot. Once you set the tone, home-baked treats will start arriving … Tea is a welcome beverage — it's warm, self-serve, and not too pricey. Nuts are a simple snack to stock — they are healthy and store well.
Limiting types of furniture makes it easier to envision new configurations for the space.
Storage should be at least 30 percent of your space.
To support individual work but preserve collaborative intersections, create a place to work alone, together. The coffee shop…
Borrowed from the theater, an overhead grid is invaluable in a space designed to adapt to changing scenes.
Have a clear default configuration for shared spaces. Show people who use the space how to leave it for others. … Use BIG signs to label the default configuration of the space.
"An escalator can't break, it can only become stairs." – Mitch Hedberg