Published on Fri, 2014-01-24 01:27
[Originally posted at OnEnsemble.org as "Recent book reviews – January 2014"]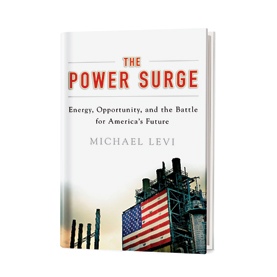 The Power Surge — Energy, Opportunity, and the Battle for America's Future
Michael Levi
pub. 2013, 260p
source: LAPL
This is a well-written book on the topic of US energy production, comparing oil, natural gas, nuclear, and renewable sources. Levi seems very even-handed in his evaluation of the benefits and problems associated with each source and the information feels well-researched and trustworthy. While I found the book interesting, it is not quite tailored to the climate-conscious individual. I will likely act more aggressively to curb my carbon emissions than the country as a whole is able.
Yet the political battle lines barely shifted. … a battle between enthusiasts for promoting traditional fuels [oil, coal, natural gas] and supporters of a new energy path … the nation must now decide firmly one way or the other.

This view is mistaken. … the fact that there are wrong ways to pursue each energy source does not mean that aren't opportunities to gain from all of them.
For the next couple of decades, [natural] gas is a great way to push out coal, particularly if low-cost renewable energy doesn't emerge as an effective alternative way to do that.
The United States currently accounts for a little less than 20 percent of global carbon dioxide emissions from energy use, and it is an even smaller fraction once you add in things like deforestation and emissions of other gasses. The figure is expected to decline steadily over time: the International Energy Agency projects that the U.S. part will fall to as little as 12 percent over the next twenty or so years.
And one needn't conclude an international treaty [like the attempted Copenhagen agreement] to have effective international cooperation. Less formal mechanisms — for example, national action combined with international transparency — have often done just as well.
… even if the United States were to produce all the oil it consumed, it would still be vulnerable to volatile prices and would be pinned in when considering action abroad.
… economists at Oak Ridge National Laboratory … concluded that every time the United States reduced its oil consumption by one barrel, the broader economy benefited to the tune of somewhere between three and twelve dollars because it became less vulnerable to jittery crude prices.
For the typical American (who makes about twenty dollars an hour) … The biggest cost of your trip isn't the gas: by a factor of five-to-one, it's you. This is why, if you were to replace your car with one that was twice as efficient, you wouldn't drive much more.
The [Ford Focus Electric] takes thirty-two kilowatt-hours of electricity to travel a hundred miles. In Dearborn, Michigan, where I took the car out for a drive, most of the electricity came from coal; producing a kilowatt-hour of electricity yielded about three quarters of a kilogram of carbon dioxide. Put together, this meant I was generating twenty-four kilograms of carbon dioxide for every hundred miles I drove. That was slightly more than the damage I would have done to the climate had I driven a Prius fueled with normal gasoline.

Michigan, though, turned out to be one of the worst places in the country to drive an electric car.
Other analysts and advocates hold out hope that ending government support for traditional fuels, which still receive substantial subsidies, would do the trick; with all fuels competing on a level playing field, clean energy would win. They're wrong: the amount of subsidy that goes to each bit of fossil-fuel electricity is far smaller than the amount that a similar amount of renewable energy receives.
… no one knows precisely what the climate dangers out there are. … The point of boosting clean energy, among other things, is to reduce the risks of climate change. There is nothing about the possibility of extreme climate sensitivity that changes the risk calculation.
If you believe oil production will deliver energy independence for free, why bother trying to cut oil consumption? If you think renewables can solve the climate problem while driving an economic renaissance, why make any sacrifices to help natural gas thrive?

It is precisely these types of attitudes that often drive and polarize thinking in Washington and around the country. Yet no one energy source is a panacea for the economic, security, and environmental challenges the United States faces.