Published on Sat, 2011-09-17 08:06
[Originally posted at OnEnsemble.org as "Recent book reviews — September 2011"]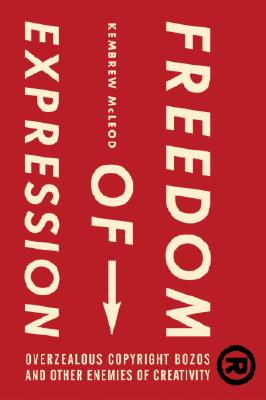 Freedom of Expression – Overzealous Copyright Bozos and Other Enemies of Creativity
Kembrew McLeod
pub. 2005, 375p
source: LAPL
McLeod provides example after example of the frustrating state of copyright and trademark law in the US. At every page I was pleased I'm a copyleft advocate and am now even more convinced that standard copyright is anti-artist and anti-creativity.
"Records like It Takes a Nation of Millions and 3 Feet High and Rising," Public Enemy's Harry Allen observes, "they're kind of like artifacts from an earlier time that couldn't exist today. They're just financially untenable, unworkable records… Beasties group member Adam Yauch agreed that "the hectic sampling laws are a bit of a deterrent from sampling."
When Afrika Bambaataa crafted one of old-school hip-hop's most important songs, "Planet Rock," he essentially created a mash-up of two songs by Kraftwerk, a German electronic group.
The director of a sample-clearance house estimated that the clearance fees for the average hip-hop album totalled about thirty thousand dollars in the early 1990's, and those rates dramatically rose over the decade."
So if Too Much Joy had agreed to the label's terms, they would have lost five thousand dollars from royalties that Warner Records owed them, and Warner Video would have received a five-thousand-dollar payment. No one except TimeWarner wins in this scenario, and when we pull back and examine the music industry as a whole, we see that this royalties drain happens on a grand scale. Multiply the samples found on the hundreds of albums released each year, multiplied by tens of thousands of dollars in licensing fees per album, and that's a lot of money that is deducted from artists' royalties. The original recording artists see only a fraction of that money, if they're paid at all.
The idea of the "original genius" comes out of the early-nineteenth-century Romaticist movement, which put forth the notion that the great author creates something totally new from scratch.
Otis Redding — the soul singer who wrote and originally recorded "Respect," which Aretha Franklin made famous — once mock-complained, "That little girl stole my song." Popular confusion over its authorship runs so deep that even Prince got his R&B music history wrong. During a rant about why lesser musicians shouldn't try to remake others' songs, including his, Prince asserted, "Have some respect, man. If anyone tried to cover 'Respect,' by Aretha? I would shoot them myself!"
…Miles Davis applied tape-collage methods to his radical jazz records, particularly In a Silent Way and Bitches Brew.
"If creativity is a field," quipped Oswald, "copyright is the fence."
The friends that corporate marketers desire most are young ones… "You'll also agree that the youth market spends the majority of each day inside the school house. Now the problem is, how do you reach that market?" Companies have solved that dilemma with creative tactics, such as corporate-subsidized textbooks that contain math problems with Nike logos or that regularly mention Oreo cookies.