Published on Sat, 2013-04-13 09:00
[Originally posted at OnEnsemble.org as "Recent book reviews – April 2013"]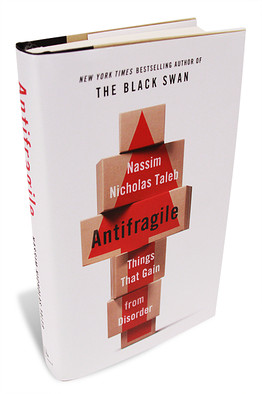 Antifragile: Things that gain from disorder
Nassim Nicholas Taleb
pub. 2012, 519p
source: LAPL
Antifragile looks at a variety of topics including health, economics, and politics, through the lens of "anti-fragility". Defined as the true opposite of "fragile", "anti-fragile" is anything that is improved through stress, the way the human body is strengthened by a jog, for example.
Taleb's writing is deeply thought-provoking, and complicated enough to resist simple categorization. That having been said, as I read the book, moments of surprising simpatico were interspersed with whiffs of skepticism. Taleb's trust in competition and markets and his quick dismissal of others as "fragilistas" kept me on my wits as I read. Does he really distrust the value of sunblock? Interestingly, all this made the book pleasurably uncertain and I'm glad for its recommendation.
The mechanism of overcompensation hides in the most unlikely places. If tired after an intercontinental flight, go to the gym for some exertion instead of resting. … if you need something urgently done, give the task to the busiest (or second busiest) person in the office. Most humans manage to squander their free time…
A cluster of municipalities with charming provincial enmities, their own internal fights, and people out to get one another aggregates to a quite benign and stable state.
… Assume further that for what you are observing, at a yearly frequency, the ratio of signal to noise is about one to one (half noise, half signal) — this means that about half the changes are real improvements or degredations, the other half come from randomness. This ratio is what you get from yearly observations. But if you look at the very same data on a daily basis, the composition would change to 95 percent noise, 5 percent signal. And if you observe data on an hourly basis, as people immersed in the news and market price variations do, the split becomes 99.5 percent noise to 0.5 percent signal.
I find it preferable (and less painful) to work intensely for very short hours, then do nothing for the rest of the time… George Simenon, one of the most prolific writers of the twentieth century, only wrote sixty days a year, with three hundred days spent "doing nothing." He published more than two hundred novels.
"If the student is smart, the teacher takes the credit."
The minute I was bored with a book or a subject I moved on to another one, instead of giving up on reading altogether… The trick is to be bored with a specific book, rather than with the act of reading.
Textbook "knowledge" misses a dimension, the hidden asymmetry of benefits — just like the notion of average. The need to focus on the payoff from your actions instead of studying the structure of the world … has been largely missed in intellectual history. Horribly missed. The payoff, what happens to you (the benefits or harm from it), is always the important thing, not the event itself.
Acts of omission, not doing something, are not considered acts and do not appear to be part of one's mission.
… we know a lot more what is wrong than what is right … negative knowledge (what is wrong, what does not work) is more robust to error than positive knowlege (what is right, what works). So knowledge grows by subtraction much more than by addition…
In political systems, a good mechanism is one what helps remove the bad guy… For the bad guy can cause more harm than the collective actions of good ones.
So there are many hidden jewels in via negativa applied to medicine. For instance, telling people not to smoke seems to be the greatest medical contribution of the last sixty years. Druin Burch, in Taking the Medicine, writes: "The harmful effects of smoking are roughly equivalent to the combined good ones of every medical intervention developed since the war… Getting rid of smoking provides more benefit than being able to cure people of every possible type of cancer."
We accept that people who boast are boastful and turn people off. How about companies? Why aren't we turned off by companies that advertise how great they are?