Published on Sat, 2010-08-28 07:00
[Originally posted at OnEnsemble.org as "Book reviews – dance notation"]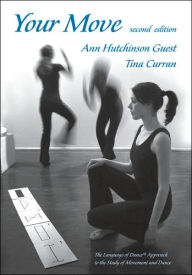 Your Move
Ann Hutchinson Guest and Tina Curran
pub. 1993, 158p
source: LAPL, no longer available
After having read Dance Notation and Labanotation, I'm enamored with Ann Hutchinson Guest. I was extremely excited about Your Move, in which Guest explains the "Language of Dance approach to the study of movement and dance." The notation is a slightly simplified version of Labanotation, taught piece by piece along with movement exercises. Unfortunately, I found myself less inspired than expected, both by the writing, which feels a bit hand-holdy, and the aesthetics of the notation which doesn't start to look beautiful until the later chapters. With regards to the Laban system and taiko, however, Your Move has been the most immediately applicable, and this will be a go-to book if I return to Laban for more in-depth exploration. There were a number of good quotes.
If you focus on leaving the situation where you were, rather than on moving to a predetermined new spatial placement, the action is more likely to reflect true motion performed for the sake of moving, of enjoying the process, rather than of achieving a particular "picture".
The lateral symmetry of the body makes it easy for us to gesture with arms and legs into the open side directions; the crossed side directions are not as comfortable and require practice. In the case of one-sided crossing, the range can be augmented by including some degree of accompanying turn in the shoulders or hips; however, other parts of the body must hold the original front so that the sense of lateral direction is not lost.
In dealing with space, there are infinite points toward which we can move, or through which we can pass… However, the human eye is limited in discerning minute differences in spatial location… Other than very small vibrating movements… it has been found that a 15 degree difference in arrival at a destinational point is the smallest degree with which we need be concerned.