Published on Fri, 2014-01-24 01:27
[Originally posted at OnEnsemble.org as "Recent book reviews – January 2014"]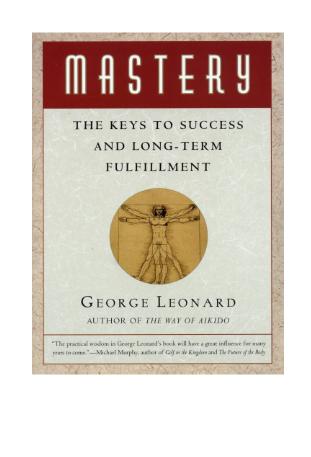 Mastery
George Leonard
pub. 1991, 176p
source: LAPL
This is a short, inspiring read on Leonard's belief in the art and value of seeking mastery. Fun!
Seduced by the siren song of a consumerist, quick-fix society, we sometimes choose a course of action that brings only the illusion of accomplishment, the shadow of satisfaction.
Much has been made of the blazing sprint-speed of the cheetah, the prodigious leaps of the kangaroo, the underwater skills of the dolphin, and the gymnastic prowess of the chimpanzee. But the fact of the matter is that no animal can match the human animal in all-around athletic ability. If we were hold a mammal decathlon with events in sprinting, endurance running, long jumping, high jumping, swimming, deep diving, gymnastics, striking, kicking, and burrowing, other animals would win most of the individual events. But a well-trained human would come up with the best overall score. And in one event — endurance running — the human would out-perform all other animals of comparable size… If we are born geniuses of thought and feeling, we are also geniuses in potentia of the body…
What values do [television commercials] espouse? … About half of the commercials, whatever the subject matter, are based on a climactic moment: The cake has already been baked; the family and guests, their faces all aglow, are gathered around to watch an adorable three-year-old blow out the candles. … One epiphany follows another. There's no plateau.
One night about a year later, the four most advanced brown belts in the school happened to have a conversation during which we obliquely touched upon the possibility that we ourselves might someday achieve the rank of black belt. … when I next came to class I was aware of something new: the worm of ambition was eating stealthily away… Maybe it was a coincidence, but within three weeks of that conversation all four of us suffered serious injuries…
Our preoccupation with goals, results, and the quick fix has separated us from our experiences. … We awaken in the morning and hurry to get dressed. (Getting dressed doesn't count.) We hurry to eat breakfast so that we can leave for work. (Eating breakfast doesn't count.) We hurry to get to work. (Getting to work doesn't count.) …