Published on Fri, 2011-04-01 09:16
[Originally posted at OnEnsemble.org as "Recent book reviews – March 2011"]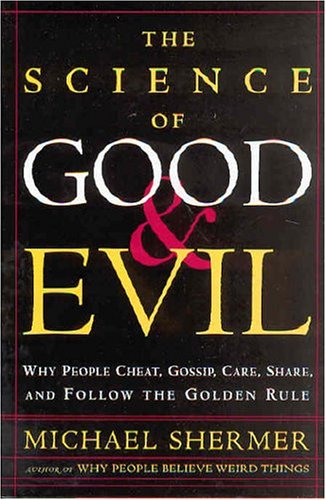 The Science of Good and Evil – Why People Cheat, Gossip, Care, Share, and Follow the Golden Rule
Michael Shermer
pub. 2004, 350p
source: LAPL
The Science of Good and Evil makes a convincing case that morality is an evolved human trait, part of human nature and our species. The book covers much of the same ground as The Moral Landscape but was an enjoyable companion read on the topic.
The tendency to use the term ("evil") at all comes from our Western Platonic tendency to think in terms of essences, or nonchanging "things" or "types" that are what they are by their very nature. … But in fact, they do change, however slowly, and their essences are only temporary. Analogously, evil is not a fixed entity or essence. It is not a thing. Evil is a descriptive term for a range of environmental events and human behaviors that we describe and interpret as bad, wrong, awful… To call something "evil" does not lead us to a deeper understanding of the cause of evil behavior.
… the myth of pure evil confers a kind of moral immunity on people who believe in it…
Humans can be morally principled in one circumstance, hedonistic in another, fear punishment in one context, exert our loyalty to friends in a different context. … Carol Tavris concludes that "the assumption that a moral failing in one domain reveals something profoundly important about a person's entire character, or predicts his or her behavior in other situations, is wrong."
It cannot be overemphasized that provisional ethics is not relative or situational ethics, nor is it an attempt to eschew moral responsibility or escape moral freedom. … Moral principles, derived from the moral sense, are not absolute, where they apply to all people in all cultures under all circumstances all of the time. Neither are moral principles relative, entirely determined by circumstance, culture, and history. Moral principles are provisionally true — they apply to most people in most cultures in most circumstances most of the time.
If we cannot reliably turn to the Bible and other sacred texts to determine moral right and wrong, to whom shall we turn? … One answer can be found in the first moral principle, the Golden Rule. … The Golden Rule is a derivative of the basic principle of exchange reciprocity and reciprocal altruism, and thus evolved in our Paleolithic ancestors as one of the primary moral sentiments.
The happiness principle states that it is a higher moral principle to always seek happiness with someone else's happiness in mind, and never seek happiness when it leads to someone else's unhappiness.