Published on Tue, 2010-05-04 07:00
[Originally posted at OnEnsemble.org as "Recent book reviews – May 2010"]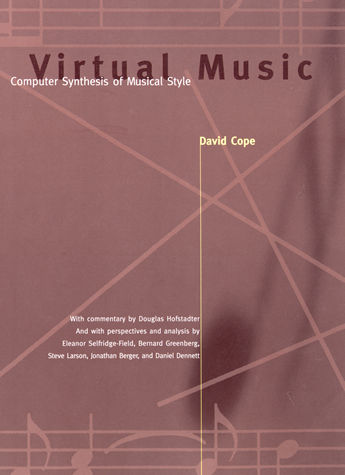 Virtual Music, Computer Synthesis of Musical Style
David Cope
pub. 2001, 565p
source: LAPL
Incredible!!!  His understanding of western music composition is so thorough that he can easily mimic Bach, Beethoven, Mozart, and more.  Above and beyond this talent, however, Cope has written software to automatically compose music in these styles.  (!!!)
Can you tell which is which?  Guess whether each piece was composed by Chopin or Cope's software!  (Then read on for the answers.)
Mazurka 1 (mp3) (ogg)
Mazurka 2 (mp3) (ogg)
Mazurka 3 (mp3) (ogg)
Mazurka 4 (mp3) (ogg)
Virtual Music explains the inner workings of this music-writing software, Experiments in Musical Intelligence (EMI).  It presents the theory behind the algorithms (some of which was over my head with my limited music theory and notation training) along with interesting commentary from other composers and academics on the artistic ramifications of the fact that computers can now write convincing music.
I found the book absolutely fascinating and am deeply inspired by Cope's work.  He is able to think of music and compose with a remarkably high level of perspective.  Whereas I'm often caught up in the minutia of composition, Cope is able to think about whole classes of melody and rhythm and the underlying concepts.  He is able to codify successful compositional strategies and communicate them clearly.  In answer to the question of how to write music, so many composers wax poetic… "I open myself to the creative muse and let it flow."  How about some advice that's more helpful?!  Cope speaks more precisely… "retain the name of the destination pitch to which each voice moved in the next beat… (and) collect these beat objects in various groups called lexicons named according to the pitches and register of their entering voices (e.g., C1-G1-C2-E3, where the number suffixes reflect the octave of the note names.)"  Ask and you shall receive!
After reading Virtual Music, I am inspired to learn more about Cope's music, about classical music generally, to practice composition, and to try and develop a deeper understanding of my musical preferences.  I have checked out a music theory book by Cope and am gradually working my way through.  (SPOILER ALERT) By the way, Mazurka 1 and 4 above were composed by EMI. (/SPOILER ALERT)  They were written more than 10 years ago and his software is even better today!