Published on Sat, 2012-09-01 17:40
[Originally posted at OnEnsemble.org as "Recent book reviews — August 2012"]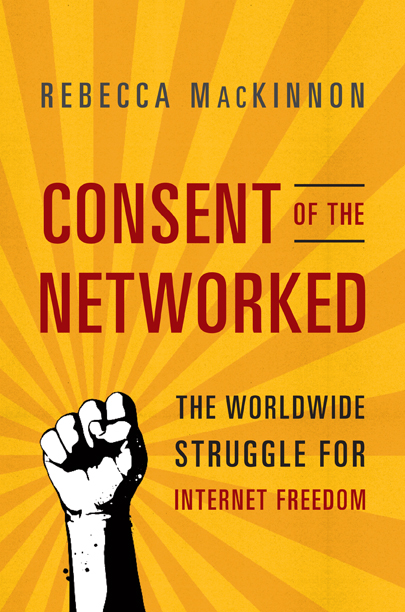 Consent of the Networked: the world-wide struggle for Internet freedom
Rebecca MacKinnon
pub. 2012, 294p
source: LAPL
This book explains why I don't use Facebook or Apple products, why I anonymize my use of Google, and why I support free-software. From the book's cover:
The Internet was going to liberate us, but in truth it has not. For every story about the web's empowering role in events such as the Arab Spring, there are many more about the quiet corrosion of civil liberties by companies and governments using the same digital technologies we have come to depend upon.

Sudden changes in Facebook's features and privacy settings have exposed identities of protestors to police in Egypt and Iran. Apple removes politically controversial apps at the behest of governments as well as for its own commercial reasons. Dozens of Western companies sell surveillance technology to dictatorships around the world. Google struggles with censorship demands from governments in a range of countries — many of them democracies — as well as mounting public concern over the vast quantities of information it collects about its users.

… it is time to fight for our rights before they are sold, legislated, programmed, and engineered away.
I am a big believer that we need to stop thinking of ourselves as "users" of the internet, but as "netizens" and active creators of internet culture. We need to make decisions between what we consider the good and bad influences of technology and take responsibility for our freedoms. We should resist walled gardens that trade our privacy and true empowerment for convenience.
The revolution will not be on Facebook, and Consent of the Network explains why.
The technologies and policies that make surveillance and censorship possible in China and many other countries are closely connected to policy, business, and technical decisions being made by governments and companies in the democratic West.
"Governance" functions, once carried out almost entirely by nation-states, are now shared increasingly by private networks and platforms. The lives of people around the world — from people living in democracies, such as the United States, to those living in authoritarian regimes, such as China — are increasingly shaped by programmers, engineers, and corporate executives for whom nobody ever voted and who are not accountable to the public interest in any way. When we sign up for web services, social networking platforms, broadband service, or mobile wireless networks, and we click "agree" to the terms of service, we give them false and uninformed consent to operate as they like.