Published on Mon, 2016-03-07 12:05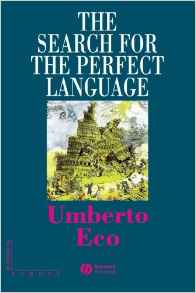 The Search for the Perfect Language
Umberto Eco
pub. 1995, 353p
source: LAPL
I've failed you, Umberto!  The day after this book arrived for me in the LAPL holds system, Umberto Eco died at the age of 84.  Knowing only of Eco's renown, it was with great interest that I began reading The Search for the Perfect Language.  Unfortunately, I couldn't get into it.
The book glows with scholarship and wisdom.  Alas, the glow was a bit too bright for a first-time adventurer.  With complicated terminology, frequent references to historical events I didn't know, untranslated French and Italian, and a tiresome level of detail, I started picking up other things to read after 100 pages.  The 16th and 17th century history felt too far removed for the effort.  I skipped to the final chapters where I was rewarded with the following.
Yet what really characterized the eighteenth-century debate was the desire not so much to simplify grammar as to show that there existed a natural and normal grammar, universally present in all human languages. This grammar is not, however, manifestly apparent; it must be sought instead beneath the surface of human languages, all of which are, in some degree or other, deviations from it. As can be seen, we have returned to the ideal of a universal grammar, only now one is trying to identify it by reducing every existing language to its most laconic form.
Attentive as we have been throughout this story to the issue of side-effects, we ought here to note that without the eighteenth-century intuition of an original, laconic grammar, our contemporary notions of generative and transformative grammar would be quite inconceivable...
There are undoubtedly more gems like this waiting for a more patient reader in The Search for the Perfect Language. My sincere apologies to the late Eco that I have missed so many of them.